Forklift Service | Santa Clarita, CA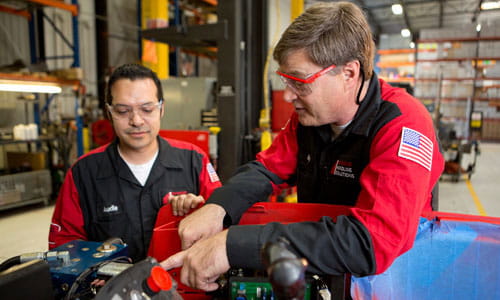 Raymond West is a Valencia service provider for all types of forklifts.

We are backed by one of the largest parts departments in California.

Call us today at (661) 206-0462
Lift truck maintenance is a crucial consideration in your storage facility operational plan. For your pre-planned maintenance and unscheduled repairs, it's essential to have dependable, knowledgeable specialists at your disposal whenever they are required.
Choosing the right strategic partner for your maintenance requirements can play a crucial role in staying on schedule and keeping your operation running in the most efficient manner possible. If you're looking for a maintenance partner, there are a number of factors you should assess:
Capability and coverage: many "mom and pop" service operations have a small number of service techs and have only one location. This single-threaded approach is an issue when setting up urgent service visits because small organizations have far less scheduling flexibility. Additionally, in the event you have several facilities spanning a state or service area, you may have longer dispatch intervals or even need to contract multiple service companies. Raymond West has facilities across nine Western states. We employ over 400 experts, and our typical dispatch to arrival time is about 120 minutes.
Unified maintenance: warehouses have a lot more equipment to maintain than just forklifts. Dock levelers, dock doors, automated storage systems, conveyors and many other systems require regular service. Having one partner that has the ability to maintain all of your systems is not just convenient, it can save you a lot of time and money when you add all of your equipment to a planned maintenance routine.
Skilled technicians: across the industry, there are many levels of training and experience when it comes to technicians . When you want to get a forklift repair done quickly and done right the first time, particularly if you run multiple types of trucks, it's important to have capable technicians. Raymond West has some of the most highly trained technicians in the material handling industry that can service all brands of material handling equipment. Raymond's training programs are among the finest in the industry, and we train forklift mechanics from all over the West at our facility in Southern California.
Forklift Parts: with over 4,000 parts in stock and availability of more than 100,000 more, we have one of the best-stocked parts operations in the Western U.S. Regardless of manufacturer, we can deliver the parts you need whenever you need them most. In addition, our consignment program can guarantee that your technicians have parts at their fingertips when required.
Speed and efficiency: Our teams arrive on site ready to get you back up and running. Our thoroughly equipped service vans have all the common parts and tools necessary for most jobs so that we don't need repeat dispatches or parts runs. Between our short dispatch intervals and our ability to resolve issues quickly, we can many times reduce your downtime by a day or longer versus other forklift repair providers.
System integration: using Raymond's iTrack, your organization can request immediate repair from any vendor through our web portal. You can also review maintenance schedules and logs, service history and expenses, equipment up time and scheduled maintenance. Best of all, we can give you one monthly invoice for enterprise-wide maintenance so that you can readily monitor and control expenses.
Forklift Service Near Me
Forklift downtime can put you behind schedule and a rapid recovery is critical to maintaining performance. Whether you are looking for urgent forklift service, day to day maintenance or a scheduled maintenance contract, Raymond West has a full range of options. Get in touch with us today!
Raymond West Santa Clarita
28303 Industry Drive
Valencia, California 91355
(661) 206-0462