Forklift Rental Service - Valencia, CA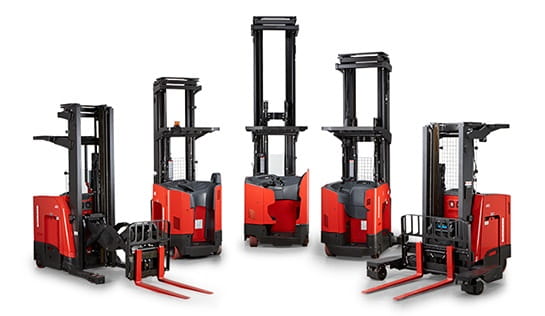 There are many different providers in the San Fernando Valley to select from when renting a forklift. So why pick Raymond West?
Raymond is among the top forklift manufacturers globally, and has been making forklifts for almost a hundred years. We are at the cutting edge of electric forklift technical knowledge and the premier innovator in the industry.
We offer a complete series of fork lift choices, from counterbalanced trucks to reach trucks, turret trucks, sideloaders and order pickers. If you need electric lift trucks, we have a product for you.
More importantly, we provide all of the products and services that you'll need to oversee and service your forklifts.
Raymond's service department is staffed by factory certified repair professionals that are experts in their specialty.
Raymond's parts unit sells a substantial stock list of almost every manufacturer of forklift parts, and can provide most components within a single business day.
Raymond West has facilities across Southern California. Our Valencia / Santa Clarita locatino at 28309 Industry Dr, Valencia, CA 91355 serves customers in the San Fernando Valley and parts of Los Angeles County, including the business and industrial centers of Alhambra, Burbank, Canoga Park, Chatsworth, Glendale, North Hollywood, Northridge, Pasadena, San Fernando, Simi Valley, Sun Valley, Sylmar, Thousand Oaks, and Van Nuys.
Raymond's Valencia office is close to Interstate 5 at the Halsey Canyon Rd exit in Valencia, past Castaic Junction. This northern location in Los Angeles County gives us easy access to the San Fernando Valley, Northeast L.A., the Verdugos, Eastside, Central L.A. and other industry and warehousing hubs throughout the area.
We provide favorable lease and rental contracts with attractive terms.
Call or visit our Valencia facility today!
Forklift rentals- rent forklifts for seasonal demand, special projects and other short term uses
Rent lift trucks, reach trucks, pallet jacks and other equipment
Lease programs are available with flexible options and attractive terms
Financing is available for all types of agreements