Dock Bumpers | Santa Clarita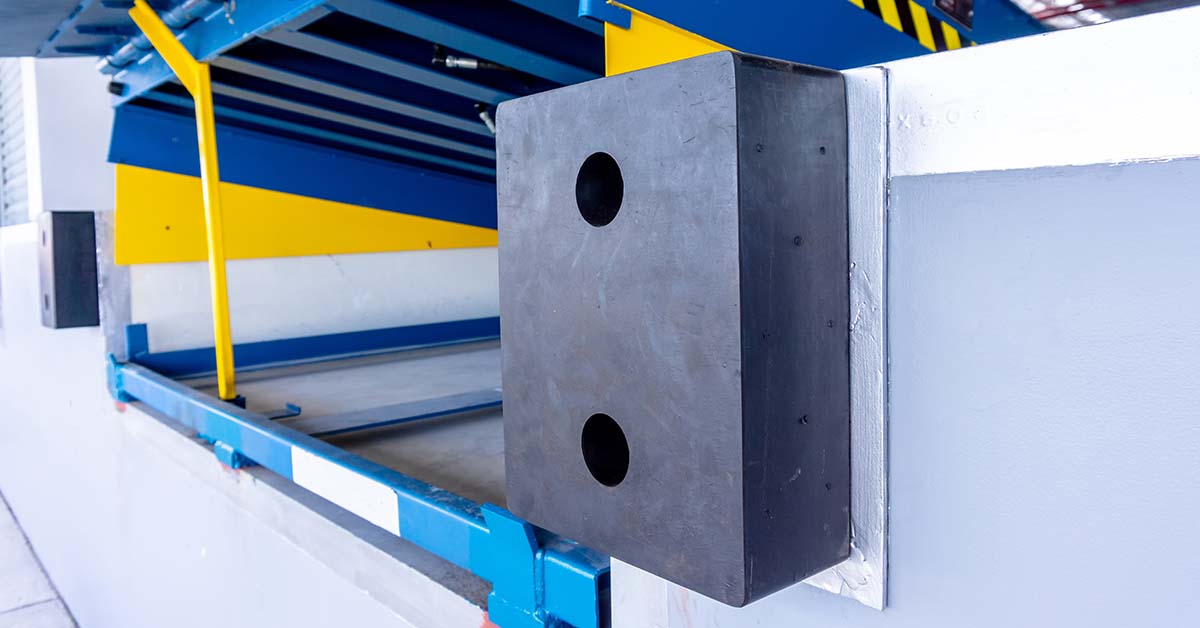 Raymond West supplies new and replacement dock bumpers.

We are among the largest suppliers of loading dock equipment in the state.

Call us today at (661) 206-0462
Loading dock bumpers can help you protect your building, your dock equipment and trailers. Every product that moves in and out of your warehouse or manufacturing facility flows through the dock, so it is important to protect it and keep every bay in good condition.
Types of Dock Bumpers
Dock bumpers are generally installed so that a trailer or truck strikes them first rather than your building. This protects your building, your dock equipment and the truck or trailer that makes use of your dock.
There are many categories of dock bumpers, and selecting a suitable bumper can be an important decision, depending upon the volume of your loading dock. Adding dock bumpers that are too light can lead to an early demise, while adding dock bumpers that are too heavy may be pointless and might in fact lead to difficulties when docking trucks and trailers.
The style of dock bumpers you choose will be dependent upon the approach, average trailer or vehicle height, daily volume and a variety of additional variables. For loading docks where trailers have the potential to move up and down during loading activities, bumpers may be mounted in either a vertical or horizontal orientation.
Molded Bumpers (Light Duty): Bumpers made from molded rubber can offer defense for light traffic loading docks. Additionally, molded bumpers are sometimes applied inside a warehouse to protect doorways, walls and other building elements from pallet trucks, forklifts and other equipment.
Molded rubber is prone to chipping and gouging with heavy use and is not as wear resistant as other types of bumpers. They may be a feasible option for your business if your dock doesn't receive a high volume of truck traffic.
Laminated Bumpers (Medium Duty): Laminated bumpers have more substantial pads than molded bumpers and provide superior shock absorption. They are constructed from strips of old truck tires that have been cut to size and sandwiched between steel plates.
They have a moderate level of wear resistance and are adaptable when it comes to height, length and overall thickness. They are often applied on docks set up with pit-style dock levelers or edge-of-dock equipment, since they provide prolonged protection for high volume docks.
Steel Faced Bumpers (Heavy Duty): Steel faced loading dock bumpers are designed with a sliding section of steel that covers a standard laminate bumper, stopping heavy erosion of the layered rubber pads. The durable metal permits trailers to brush against the bumpers without degrading the rubber. These bumpers provide superior durability, and typically last up to four times longer than unprotected laminate bumpers.
When Should Dock Bumpers Be Replaced?
Despite the fact that dock bumpers are intended to tolerate impact, they do wear down after steady use and need to be renewed every so often. There are some key indicators that tell you that your dock bumpers must be refreshed.
If the pads have worn away by 50% or more, it's time for replacement. The impact absorption ability of worn out pads is simply not enough protect your dock. Pads that are overly worn will ultimately expose the metal plates that anchor them, and this may elicit unnecessary damage to both brackets and trailers.
Besides regular wear and tear, you should keep an eye out for other damage like separating laminates, fractures, bent or corroding metal and other clear defects. You may want to schedule bumper inspections, just as you would systematically inspect your levelers and other loading dock equipment.
Truck Dock Bumpers Near Me
If you need to have your dock bumpers inspected or replaced, talk to a dock equipment expert at Raymond West today.
Raymond West's Santa Clarita / Valencia facility serves the northern region of Los Angeles County and the San Fernando Valley, including Valencia, Santa Clarita, San Fernando, Sylmar, Sun Valley, Reseda, Canoga Park, Van Nuys, North Hollywood, Burbank, Glendale, Pasadena, Hollywood and all surrounding areas.
Raymond West | Santa Clarita / San Fernando Valley Material Handling Equipment Supplier
28303 Industry Dr
Valencia, CA 91355
(661) 206-0462