Warehouse Mezzanine Systems | Santa Clarita, CA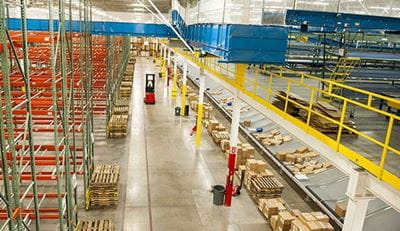 Raymond West is a Valencia supplier of new and used warehouse mezzanine systems.

We are backed by one of the largest installation and service operations in California.

Call us today at (661) 206-0462
With rising storage real estate expenses, making use of every bit of existing space in your facility is crucial.
Warehouse vacancy is at an all-time low in several parts of the country, and many organizations are having a difficult time finding extended space, especially in markets like Santa Clarita.
Taking advantage of the vertical space in a facility by adding an elevated steel platform, or mezzanine, can boost storage and production capacity. These platforms enable you to expand your operations and storage skyward, while still using the space below as you normally would.
Moving your storage facilities is an expensive and inconvenient exercise, and companies that have outgrown their operations should think carefully before making a decision to relocate. A cost effective and minimally invasive alternative is to use industrial mezzanines to augment the utilization of cubic space.
From modest warehouses to massive DCs, warehouse mezzanines can be a great option for most types of businesses. In short order, a mezzanine installation can easily improve your performance and deliver a meaningful ROI. There are many alternatives available, from regular prefabricated mezzanines to specially engineered, multi-story steel mezzanines.
Prefab Mezzanine Solutions
Mezzanine warehouse systems are a great solution for boosting storage capacity, but they have the ability to also serve as an excellent vantage point to supervise safety practices and warehouse performance.
Industrial platform configurations can take many forms, and typical systems often serve multiple functions. Many times configurations are set up with mezzanine office modules, allowing breakrooms, offices and conference areas instead of just storage.
Almost all solutions can be installed without any structural alteration and they are very simple to assemble and disassemble. They are also not difficult to modify as business requirements evolve in the future.
Mezzanine storage areas are accessible with mezzanine stairs, and products can be filled and retrieved via gates suitable for forklift access. Many configurations also use vertical reciprocating conveyors (VRC) or mezzanine lift systems to allow product movement to and from the platform.
Industrial Mezzanine Types
Freestanding: a structural or freestanding warehouse mezzanine arrangement maximizes ground space and offers uncomplicated assembly and disassembly. Broad span configurations permit easy traffic flow underneath the platform. Part and product storage are an ideal use for these varieties of structural systems.
Rack Supported: rack supported, or "catwalk" mezzanine options allow additional storage zones above pallet racking solutions. Rack supported options typically feature several gates for loading and unloading pallets within the racking system.
Shelf supported: shelving supported platforms are great solutions for expanding storage of lighter weight products above shelving configurations. Despite the fact that shelf supported systems are extremely economical, they are not as versatile as freestanding or rack supported options.
New and Used Mezzanine Systems in Santa Clarita
If you're looking for a new or used mezzanine, we provide systems for all sizes and types of companies. Call a material handling expert at Raymond today!
Raymond West
28303 Industry Dr
Valencia, California 91355
661-206-0462