Push Back Rack | Santa Clarita / Valencia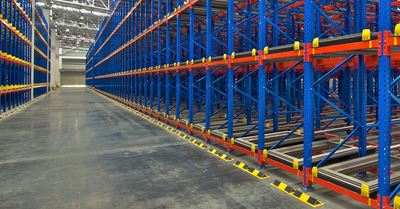 Raymond West offers pushback rack in a variety of styles and capacities.

We are one of the largest industrial racking suppliers in the state.

Call us today at (661) 206-0462
What Is Push Back Racking?
Push back racking (sometimes referred to pushback rack) is an extremely efficient pallet storage scheme that configures pallet lanes from 2 to 6 units deep. Pallets ride on linked shuttles that travel up a modest incline as products are loaded, or "pushed back" from the face of the racking system.
When products are eventually unloaded, the pallet adjacent to the foremost pallet glides back down the incline to the nearest slot.
Push Back Rack Advantages And Disadvantages
Pushback rack is perfect for many applications, but isn't a fit for some storage requirements. Here are some of the advantages and disadvantages to consider.
Higher Density Storage
Because push back pallet racks can accommodate anywhere from 2-6 pallets in any given lane, they can recover between 1-5 aisles, which can be a significant amount of warehouse square footage.
Less Forklift Travel
By eliminating aisles, forklifts don't have to make as many trips, increasing efficiency and reducing wear and tear on equipment. Diminished lift truck movement also makes a safer environment within the warehouse. Fewer trips directly correlates to fewer collisions.
Greater Selectivity
Push back pallet racking gives warehouse managers a nearly perfect mixture of storage density and selectivity. Unlike drive-in rack, where full rack bays are usually a single SKU, push back offers instant access to many more pallet slots from the aisle.
LIFO Configuration
Dissimilar to pallet flow rack, which is a First In First Out (FIFO) type of system, push back rack is a Last In First Out (LIFO) type of approach. Last In First Out is not generally suitable for items that are perishable, because products that are loaded early will often sit for quite a long period of time as inventory is loaded and depleted from the rack face.
How Does Push Back Racking Work?
A pushback rack system includes a set of tracks slanting toward the rack face and a series of nested shuttles which move on these tracks.
An initial pallet is added on the top cart by a lift truck. When another pallet is positioned, the forklift driver forces the original pallet back and positions the second pallet on the second cart. The final pallet positioned in the lane is seated on the tracks.
As push back rack is unloaded, shuttles of products advance down the rails. Lift truck drivers pull each pallet in turn until the lane is clear, or add pallets, filling the lane back up.
Push Back Pallet Racking For Sale
For more information on push back racking options, call a racking expert at Raymond West now. Raymond's storage design experts can help you find a system that is perfect for your operation.
Raymond West's Santa Clarita / Valencia facility serves the northern region of Los Angeles County and the San Fernando Valley, including Valencia, Santa Clarita, San Fernando, Sylmar, Sun Valley, Reseda, Canoga Park, Van Nuys, North Hollywood, Burbank, Glendale, Pasadena, Hollywood and all surrounding areas.
Raymond West | Santa Clarita / San Fernando Valley Material Handling Equipment Supplier
28303 Industry Dr
Valencia, CA 91355
(661) 206-0462