Dock Leveler Repair | Boise, ID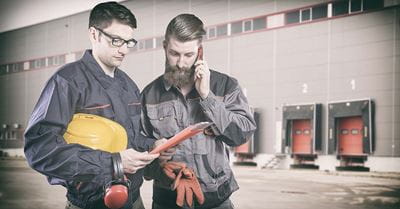 Raymond West is a Boise material handling equipment company, offering repair and service for all brands of dock levelers.

We are backed by one of the largest parts operations in Idaho.

Call us today at (800) 675-2500
A malfunctioning or inoperable dock leveler can significantly impair the basic operations of your warehouse or distribution center. On an active dock, having all slots open for trucks is critical for guaranteeing the flow of merchandise in and out of your warehouse. It's a good idea to have a consistent, dependable service organization that can get your dock equipment back in service promptly when there's an issue.
Boise Dock Leveler Repair
Raymond West provides repair and maintenance for all types of dock levelers:
Hydraulic Repair: we provide repair and maintenance for all manufacturers of hydraulic dock levelers. In addition, we service control units, signaling systems and interlock systems.
Mechanical Repair: for manual dock leveling equipment, we fix and maintain springs and any other parts in need of service.
Air Bag Replacement: we offer bag inspection and replacement for all types of air-powered levelers.
Edge-of-Dock Repair: with edge-of-dock equipment, we provide maintenance and repair, along with dock bumper renewal when necessary.
Dock Leveler Installation in Boise
When you're replacing dock levelers, things can get complicated quickly, especially for reconfiguration situations. While attaching basic edge-of-dock units can take just a half a day, adding new pit leveling equipment can necessitate building permits, demolishing and forming concrete, fabricating curb steel, electrical wiring and much more.
When it comes to more advanced projects, it's advisable to hire an experienced contractor that is an expert in dock equipment. While many industrial door vendors are proficient in basic dock leveler maintenance, very few are qualified to take on large-scale installation projects and will sub-contract their work to businesses that have more experience in installation services.
Dock Equipment Maintenance
To keep your dock leveling equipment, bumpers, vehicle restraints, interlock systems and other equipment in near perfect shape, you may want to think about a regular maintenance and inspection agreement. By regularly maintaining your equipment you can avoid expensive downtime and unplanned repair bills. Raymond West offers convenient, affordable maintenance contracts that will keep your operation up and running smoothly.
Why Raymond West - Boise?
Raymond West specializes in dock and door services across West Coast, including the Pacific Coast, Arizona, Nevada, Idaho and Montana. With 400+ technicians and 19 branches, we have the expertise and resources to get the job done right every time. Our partnership with Raymond Corp also means that we can orchestrate service for just about any location in the country.
Whether you're a small business or a nationwide enterprise, Raymond West has the size and scale to consistently serve you with our team of highly trained technicians regardless of your location.
Dock Equipment Repair Near Me
For dock leveler repair in Boise, call us now! You can speak to a Raymond dock equipment expert by dialing (800) 675-2500.
Raymond West's Boise service center serves most of Idaho, including Boise, Nampa, Meridian, Idaho Falls, Caldwell, Pocatello, Twin Falls, Post Falls and surrounding areas.
Raymond West | Boise Material Handling Equipment Supplier
743 W McGregor Ct #100
Boise, ID 83705
(800) 675-2500