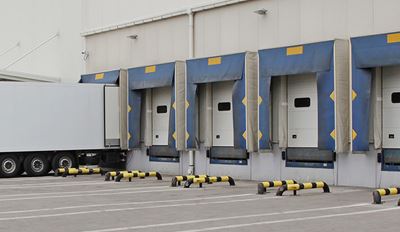 Raymond West supplies loading dock seals in the Boise area.

We are backed by one of the largest service and parts operations in Idaho.

Call us today at (800) 675-2500
If you're looking for dock seals, Raymond West has a wide spectrum of choices for nearly any requirement.
Dock seals can help you sustain consistent climate conditions on your loading dock and safeguard products from weather as they move in and out of your warehouse.
Do you really need to seal your docks? There are many benefits to adding them, including:
Energy preservation: Dock seals can generate a rapid return on investment by reducing your warehouse's climate control expenditures.
Safety: rain soaked concrete is slick and treacherous. Protecting your dock from harsh conditions makes it a safer workplace.
Morale: nobody appreciates working in inclimate weather like rain or snow. The productivity, morale and comfort of your workers will improve when you add door seals.
Merchandise protection: Seals keep rats, mice and other pests out of your warehouse while defending it against the elements.
Security: Seals assist with keeping thieves, vandals and vagrants out of your facility.
Short term storage: trailers at your dock can provide temporary, secure, environmentally-controlled extensions of your building.
Dock Seals Come in a Variety of Different Designs
Dock seals are typically fabric-covered foam panels that are mounted on the exterior side of your dock door frames. When a trailer pushes against it, the foam compresses, forming a tight seal that blocks wind and precipitation. Seals are typically applied to smaller door openings, and they can control air flow on your dock with up to 90% efficiency.
Fixed Head Dock Seal: A foam-filled side and head pad are applied in this kind of dock seal. For applications with consistent truck heights and conventional dock requirements, it's one of the most widely used and efficient dock seals.
Head Curtain Dock Seal: This style of dock seal is used when your warehouse has a lot of variation in truck heights and door heights. It has side pads that are filled with foam. This type of seal generally has either an adjustable or fixed head curtain. Optional foam-filled curtains can provide a tighter seal and increase its energy efficiency.
Adjustable Head Pad: A once common configuration, this type of seal is no longer in demand due to advances in seal technology. This seal, similar in use to a "Head Curtain," is ideal for variable truck heights and door sizes.
L-Shaped Dock Seal: As the name suggests, this seal has "L" shaped side pads. The seal's shape and extended protrusion make it well suited for larger door openings. The configuration and extended overhang are intended to seal the trailer's sides as opposed to the back. This allows for easier access to the trailer's rear. A "curtain" or "fixed head" header is employed on this category of seal.
Inflatable Seal: When a trailer is backed up to the loading dock bay, the inflatable seal balloons with the help of a blower. These seals are usually a component of an interlock system with the leveler and door, and will inflate only when the door and leveler are in the proper positions. Inflatable seals come in a host of sizes and shapes.
Dock Seals Near Me
To find out more about dock seal possibilities appropriate for your facility, contact a warehouse equipment professional at Raymond West today!
Raymond West's Boise service center serves most of Idaho, including Boise, Nampa, Meridian, Idaho Falls, Caldwell, Pocatello, Twin Falls, Post Falls and surrounding areas.
Raymond West | Boise Material Handling Equipment Supplier
743 W McGregor Ct #100
Boise, ID 83705
(800) 675-2500