Warehouse Mezzanine Systems | Boise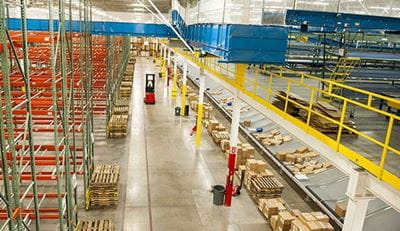 Raymond West is a Boise supplier of new and used warehouse mezzanine systems.

We are backed by one of the largest installation and service operations in Idaho.

Call us today at (800) 675-2500
With rising warehouse real estate expenses, making use of every bit of existing space in your facility is essential.
In markets like Boise, some enterprises are having difficulty finding additional storage facility space because vacancies are at historic lows.
Maximizing the use of the vertical space in a warehouse by installing an elevated steel platform, or mezzanine, can easily boost storage and production efficiency. These platforms enable you to grow your operations and storage skyward, while still using the ground below as you normally would.
Moving your warehouse space is a costly and unwieldy exercise, and companies that have outgrown their operations should think carefully before making a decision to move. Industrial mezzanines are a comparatively less costly and minimally intrusive method of expanding without having to change location.
Warehouse mezzanines can be suitable for most kinds of businesses, from compact warehouses to massive DCs. Very quickly, a mezzanine installation can easily improve your efficiency and provide a meaningful return on investment. There are many options available, from regular prefabricated mezzanines to specially engineered, multi-story steel mezzanines.
Prefab Mezzanine Solutions
Mezzanine warehouse systems may be a great choice for leveraging greater storage density, but they have the ability to also serve as an excellent vantage point to monitor safety practices and warehouse efficiency.
There are many different options available when planning an industrial platform for your warehouse. Although most often used to increase storage, solutions can certainly be designed for additional uses such as offices, breakrooms and conference rooms using mezzanine office modules.
Most mezzanine solutions provide simple assembly and disassembly. In most cases it is completely unnecessary for structural work on the building. They are also not difficult to adjust as business requirements evolve over time.
In order for workers to access these platforms, mezzanine stairs are a component of all designs. Typical storage applications also include forklift accessible gates. In addition, some configurations employ mezzanine lift equipment or vertical reciprocating conveyors (VRC) to maneuver products on and off the platform.
Industrial Mezzanine Options
Freestanding: these solutions maximize your floor space and feature easy setup, re-configuration and tear-down. They also allow unrestricted traffic flow underneath the platform due to their broad span configuration. Wide span layouts permit easy traffic flow under the platform. Structural solutions are appropriate for part and product storage.
Rack Supported: "catwalk" or rack supported solutions are installed on pallet racks, allowing supplementary storage above the racks. Rack supported options generally employ several gates for loading and unloading pallets within the racking system.
Shelf supported: for expanding storage of lighter weight products, shelving supported mezzanines are sometimes installed above shelving systems. While shelf supported solutions are very economical, they are not as flexible as freestanding or rack supported options.
New and Used Mezzanine Systems in Boise
With a presence across 8 states and 19 locations, Raymond West is one of the largest mezzanine and racking providers on the West Coast. We offer both new and pre-owned mezzanines for all types of applications. Call a material handling expert at Raymond today!
Raymond West's Boise service center serves most of Idaho, including Boise, Nampa, Meridian, Idaho Falls, Caldwell, Pocatello, Twin Falls, Post Falls and surrounding areas.
Raymond West | Boise Material Handling Equipment Supplier
743 W McGregor Ct #100
Boise, ID 83705
(800) 675-2500