Autonomous Mobile Robots | Boise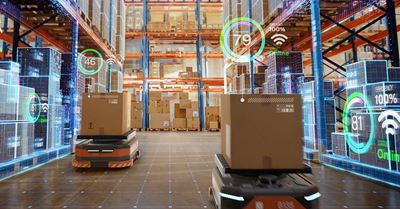 Raymond West supplies warehouse automation equipment such as AMRs.

We are among the largest suppliers of warehouse automation equipment in the state.

Call us today at (800) 675-2500.
Autonomous mobile robots (AMRs) are a kind of technology that is rapidly increasing in popularity in warehouses and distribution centers throughout the world. This kind of robot is designed to move around a warehouse or distribution center independently, without requiring human intervention. They come equipped with sensors and software that enable them to move about the premises, locate and retrieve wares, and transport them to their destination.
Autonomous Mobile Robot Benefits
One of the greatest benefits to using AMRs inside material handling facilities is the increased productivity they can provide. By automating duties such as material transportation and handling, AMRs are able to considerably reduce the time and labor needed to complete such tasks. This can lead to quicker order processing and distribution times, as well as decreased fees for labor.
Another advantage to AMRs lies in their ability to run around the clock, without any necessity for rest or breaks. This means warehouses are able to increase their throughput and efficiency, as the robots can operate around the clock without becoming weary.
AMRs can also increase safety in warehouses and distribution centers, as they are kitted out with sensors and programming that allow them to avert crashes with different people and items. This lessens the possibility of injuries and accidents in the workplace, which is notably critical in places that include heavy lifting and other physically demanding tasks.
Types Of AMRs
There are a selection of different types of AMRs currently for sale, individually engineered for specific tasks and environments. Several customary implementations of AMRs encompass:
Order Picking AMRs: AMRs are available in a wide collection of configurations that attempt to limit picking-related retrieval time. Using AMRs to take items to the picker eliminates travel time for hourly staff members and can be significant when it comes to efficiency and cost.
Sortation AMRs: Sortation can benefit substantially from the use of autonomous mobile robots. Assorted types of AMRs possess a range of handling tools. It's feasible to outfit them with everything from tilt trays to cross belt systems, and can be used in e-com fulfillment, high speed parcel sortation, and returns handling.
Inventory AMRs: Currently order fulfillment depends on having accurate, transparent inventory visibility—knowing where the item is in the warehouse, distribution center, and overall supply chain. However, organizing inventory movement and reconciliation can be demanding and time-intensive for especially large and complex operations. AMRs that are integrated directly with an inventory system can exceptionally reduce the time and money needed to maintain maximum productivity and order precision.
AMR Implementation
Deploying AMRs in a warehouse necessitates extensive forethought and consideration. It is critical to attentively assess the duties that that robots will need to do, and make sure that they are configured with the correct software and sensors to address these jobs properly. It is also important to account for the floorplan of the warehouse or distribution center and the possible impact on other systems and processes, like the storage and material handling systems.
One of the possible difficulties of configuring AMRs is incorporating them with existing processes and systems. AMRs often must be connected to warehouse management systems (WMS) and other software systems in order to function properly. This sometimes needs considerable labor and materials, and could necessitate the implementation of unique software or integration with third-party systems.
Another difficulty is the need for ongoing support and maintenance. AMRs need frequent software updates and maintenance in order to continue functioning correctly, and it is essential to create a plan to ensure that such caretaking is finished in a quick and successful fashion.
Talk To A Warehouse Automation Expert
Altogether, autonomous mobile robots can bring substantial features to distribution centers and warehouses, such as increased productivity, safety, and efficiency. To learn more about configuring and setting up an AMR project, contact a warehouse automation professional at Raymond West now.
Raymond West's Boise service center serves most of Idaho, including Boise, Nampa, Meridian, Idaho Falls, Caldwell, Pocatello, Twin Falls, Post Falls and surrounding areas.
Raymond West | Boise Material Handling Equipment Supplier
743 W McGregor Ct #100
Boise, ID 83705
(800) 675-2500