Vertical Lift Modules | Boise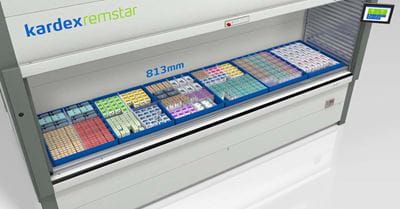 Raymond West offers a full line of vertical lift modules for industrial applications.

We are backed by one of the largest service and parts operations in the state.

Call us today at (800) 675-2500.

Vertical lift module (VLM) systems are automated retrieval and storage apparatuses that are often deployed in distribution centers, warehouses, and other material handling locations. These setups consist of a set of vertically aligned storage bins or trays reached using a lift mechanism. The lift device is directed using a computer system that coordinates the collection and replacement of trays or bins to the vertical stacks.
VLM systems are designed to provide effective and efficient storage and retrieval of components in a material handling location. VLM's can be used to store a plethora of different kinds of things, including pallets, boxes, and totes. The vertical stacking of the storage trays or bins creates a higher density of storage in a more compact footprint, making them an excellent option for warehouses with smaller floor space.
Vertical Lift Module Benefits
A key benefit of vertical lift modules is their extensive automation. The computerized lift mechanism can efficiently and precisely collect the desired tray, diminishing the necessity for manual retrieval or storage and raising the pace and efficiency of the retrieval and storage operation. VLM setups also normally demonstrate a greater capacity for storage, so they are suitable to be used in large distribution centers and warehouses.
Another benefit of VLM systems is their ability to optimize the space used inside a warehouse or distribution center. The vertical orientation of the storage trays results in a greater storage density, decreasing the floor space used by storage and freeing up other areas for other applications. In addition, VLM systems are able to be designed to accommodate a large variety of tray configurations and proportions, making it possible to customize the system to the situational needs of the distribution center or warehouse.
VLM setups are also able to be meshed with additional material handling equipment, such as conveyor systems and lift trucks, to further increase the speed of the retrieval and storage process. For example, VLM systems can be used with conveyor systems to automatically transport components to and from the vertical storage, diminishing the need for workers to partake in handling.
VLM's can be designed to satisfy the individual needs of a warehouse or distribution center. As an example, it's possible to have them set up to adapt to different sizes and sorts of materials, as well as different retrieval and replacement requirements. In addition, VLM storage setups can be furnished with various features to increase safety, like warning lights and safety barriers.
Talk To A VLM Expert
Altogether, VLM systems are an effective and optimized method for distribution centers and warehouses that deal with storage and retrieval of a large quantity of materials in a small area. They offer considerable automation, a large storage capacity, and the optimization of the use of space within a facility. With the differing types and configurations on the market, VLM systems can be customized to meet the individual requirements of any distribution center or warehouse. In order to learn more regarding the potential of VLM systems for your company, call an expert in automation at Raymond West today.
Raymond West's Boise service center serves most of Idaho, including Boise, Nampa, Meridian, Idaho Falls, Caldwell, Pocatello, Twin Falls, Post Falls and surrounding areas.
Raymond West | Boise Material Handling Equipment Supplier
743 W McGregor Ct #100
Boise, ID 83705
(800) 675-2500