Forklift Monitoring Systems | Las Vegas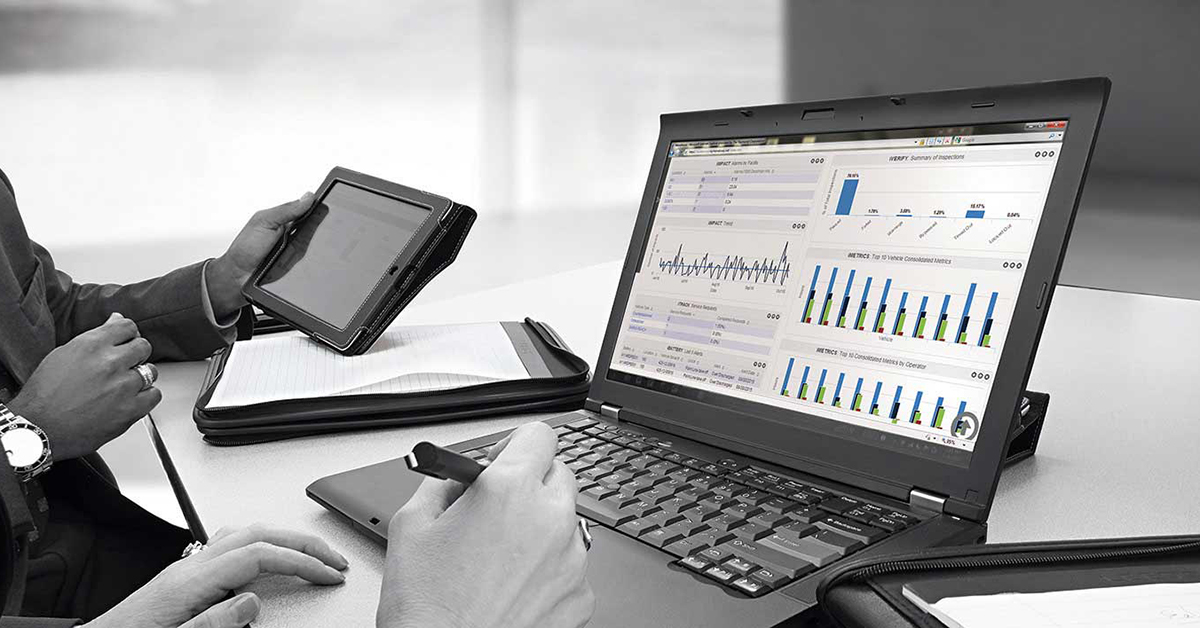 Our iWarehouse suite gives you a single user interface for maintenance and utilization tracking and reporting, live battery and impact monitoring, electronic checklists, path and load monitoring, and a lot more.

Call us today at (702) 651-6480.
Raymond West supplies comprehensive forklift telematics systems to help you cut down on costs, boost vehicle and operator productivity and improve efficiency for your Clark County storage facility operation. Our iWarehouse suite gives you a single user interface for maintenance and utilization tracking and reporting, live battery and impact monitoring, electronic checklists, path and load monitoring, and a lot more.
iWarehouse is not limited to Raymond equipment. iWarehouse is compatible with countless makes and models of powered industrial vehicles.
Forklift Tracking
iTrack is Raymond's warehouse asset management solution for monitoring forklifts and other warehouse machinery. Individuals can track equipment utilization trends, service documents and linked expenditures. The iTrack system provides you a comprehensive vision of patterns throughout all of your locations and assets, giving you the best possible information to make intelligent decisions, lower your expenses and enhance efficiency.
Which forklift gets used the most? Which is the most costly to maintain? Are there certain pieces of equipment in your Las Vegas warehouse that are causing issues? What about the rest of your warehouses? Now you can answer these concerns and many more. iTrack offers you the full picture by diligently collecting data and compiling it into valuable, actionable reporting.
When it comes to warehouse equipment maintenance, iTrack can spare you hours of downtime while decreasing your administrative workload. In case of an equipment problem, the iTrack solution enables remote dispatch of almost any vendor, directly from the interface. It tracks the linked costs and also allows for consolidated invoicing throughout all of your facilities.
Battery Monitoring System
Battery charging, handling, service and replacement expenses are a significant budget item for almost all storage facility operators. Tracking your batteries can help to identify problems, prevent breakdowns and stretch the useful life of your battery equipment.
Raymond's iBattery system is a component of iWarehouse that allows you to keep an eye on batteries in real time, showing you temperatures, water levels, charge periods and current charge state. Along with offering you a real time perspective, these statistics can help you identify patterns of negligence or misuse, highlighting where to implement corrective activities.
Our reporting functions can also give you a combined perspective of battery condition throughout your organization, permitting you to budget and plan accordingly.
Forklift Impact Sensor
Forklift impacts are among the most persistent and costly incidents in a warehouse workspace. They can cause damage to your facility, pallet racks, equipment and goods, not to mention recovery time as you attend to these problems. And yet these occurrences do not often get documented in a timely fashion, if at all.
Raymond's iWarehouse maintains constant lift truck impact surveillance and live notification when an incident occurs. Impact sensing units will relay details via SMS or email on the vehicle number, driver, site and time of impact, allowing you to attend to accidents promptly and with complete documentation.
Forklift Access Control
Using the iWarehouse solution, you can manage who has access to individual powered industrial vehicles, guaranteeing that every driver has the proper training and qualification for the vehicles they are running.
Operators are required to log in to gain access to equipment, enabling you to give permissions only to workers that are certified for certain pieces of equipment. You can also implement constraints on acceleration and travel speed based on an operator's credentials, providing you unlimited control of your vehicles and your workforce.
Forklift Fleet Management Near Me
To get more information about warehouse asset tracking and industrial vehicle monitoring options in the Las Vegas Valley call a material handling specialist at Raymond today!
Raymond West
2555 E. Washburn Rd.
North Las Vegas, Nevada 89081
Phone: 702-651-6480
You May Also Like: