Forklift Batteries - Los Angeles, CA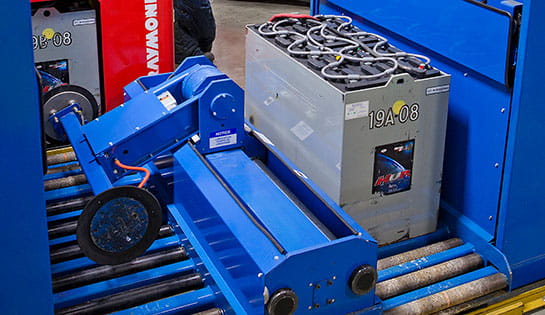 Raymond is one of the most trusted manufacturers in material handling and we are among the largest sellers of forklift batteries in the nation.
With a full range of battery brands, sizes, specs, and types, we are a full service vendor serving Southern California and Nevada.
We offer:
Forklift Battery Replacement
New / OEM
Battery Rental Programs
Used / Reconditioned / Rebuilt Batteries
Hydrogen Fuel Cells
Forklift Battery Chargers & Power Systems
Battery Raymond West
Charging Stations
Lifting Equipment

Bars / Beams / Straps / Hoists

Watering Systems

Fillers / Guns / Carts / Additives
Battery Maintenance Tips
Regular maintenance is critical for lead acid batteries and it can substantially increase their useful life. Basic battery inspection and maintenance should include watering, testing for bad cells, looking for signs of leaking and evaporation, checking the terminals and cables for corrosion, and occasional cleaning of acidic residue from the battery case.
Battery cell water levels should be maintained about at about a half inch below the vent cap openings and only distilled or deionized water should be used. Water should only be added after a charge cycle and you should avoid overfill.
For safety, any repairs should be completed by a qualified technician. They have the tools, the parts and the troubleshooting abilities to handle more complex battery service issues.
Battery Safety
Changing or charging batteries should only be handled by employees that are trained in battery handling procedures. These employees should also be trained in basic emergency procedures because there are some potential hazards with lead acid batteries.
Potential battery safety issues can include the following:
Out Gassing: near the end of the charging cycle batteries may start releasing hydrogen gas. This gas is explosive and care should be taken to isolate charging batteries from heat or flame sources.
Charging areas should be adequately ventilated and battery covers should also be opened during charging so that gasses can vent.
Strict non-smoking rules must be observed near charging areas, and non-smoking signs should be placed prominently. In addition, tools or equipment that create sparks should never be used near charging batteries.
Drop Hazard: forklift batteries can weigh thousands of pounds and great care should be taken during battery removal and replacement.
A lifting beam or similar type of equipment should always be used when removing batteries.
Trucks should also be properly positioned with the brake applied whenever a battery is removed or replaced.
Corrosive Chemicals: most forklift batteries use sulfuric acid. Any employee working on or around batteries should be cautious about splashing acid on their skin, getting it in their eyes or any personal contact with the chemical.
Employees should wear protective gear such as safety goggles, face shields, gloves, long sleeves and aprons when working with batteries.
A shower and eyewash station should be located near any battery charging station.
When refilling, acid should always be poured into water, never water into acid.
If acid gets spilled, it should be neutralized with a mixture of one pound of baking soda to one gallon of water. After applying the baking soda mixture to the acid spill, the acid is neutralized once bubbling stops. Cleanup can be handled using an absorbent material like clay.
Electrical Short: in some situations, contact with battery cells can cause a short circuit, which can cause burns and other injuries.
Employees should remove any metallic jewelry and avoid using metal tools when working directly on batteries.
Forklift Batteries in Southern California
If you'd like assistance in sourcing batteries for lift trucks, you can speak with a professional at Raymond West by calling 562-944-8067.
If you're anywhere in Southern California or Las Vegas, you can find us at these locations:
Los Angeles, CA
9939 Norwalk Blvd
Santa Fe Springs, California 90670
Phone: 562-944-8067
Ontario, CA
4602 E Brickell St.
Ontario, California 91761
Phone: 909-930-9399
San Diego, CA
12310 World Trade Dr.
Ste 111
San Diego, California 92128
Phone: 858-679-1800
Valencia, CA
28303 Industry Dr.
Valencia, California 91355
Phone: 661-206-0462
Las Vegas, NV
2555 E. Washburn Rd.
North Las Vegas, Nevada 89081
Phone: 702-651-6480