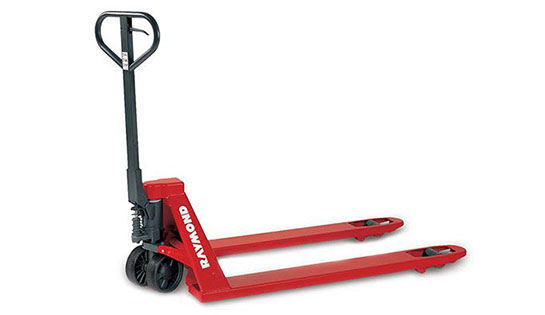 When considering the purchase of a pallet jack it's important to weigh the benefits and some of the drawbacks of different types of pallet jacks.
Obviously, the main purpose of a pallet jack is to move pallets around a warehouse, manufacturing facility or other operation where pallets need to be transported.
However, depending on the size of your facility, the weight of pallets being moved, the frequency of use, and other variables, you may want to get a better understanding of which pallet jacks perform best in which environments.
The following article is a synopsis of pallet jack types, features, limitations and use cases.
Manual Pallet Jacks
Manual pallet jacks have been around since 1918 and haven't changed much since that time. They consist of a steel frame, a fork and a hydraulic pump that's activated by pumping the handle up and down.
The operator of a manual pallet jack positions the forks under the pallet, jacks the pallet off the ground and wheels the pallet to a desired position, steering with the handle or "tiller".
Any place where lift height is not essential can be a good application for a manual pallet jack, including grocery store aisles, warehouse back rooms and similar. Unlike a forklift, they're also somewhat portable and will fit in the back of a truck or van for deliveries. The load capacity of most manual pallet jacks is 5500 pounds.
Manual pallet jacks are best for occasional use scenarios over short distances. They're not the best option for moving loads over longer distances, inclines or rough terrain because operators have to manually pull or push the pallet jack which can be physically exhausting after a while.
Walkie Pallet Jacks
Although twice the size of manual pallet jacks, walkies are still relatively small in size and they are highly maneuverable.
Walkie pallet jacks are powered by on-board batteries. The battery provides an electrical assist for driving and lifting. The operator no longer has to pump the handle to lift the load, nor do they have to pull the load along through the warehouse.
However, they are called walkies because the operator does still have to walk behind or beside them.
A walkie pallet jack's maximum speed is low compared to rider jacks since the operator has to keep up with it as opposed to riding on it. This is actually somewhat of a built in "safety feature" since limited speeds also limit the impact of collisions.
The capacity of most walkie pallet jacks is between 4500-6000 pounds.
Although they're more convenient than manual pallet jacks, walkies have to be recharged regularly since they're battery operated. They also require more maintenance than manual pallet jacks because there are more moving parts and points of failure.
The primary applications for walkie pallet jacks are staging areas, loading docks and short to mid-distance runs.
Rider Pallet Jacks
Rider pallet jacks are like walkies except that they have an additional riding platform for the operator. There are very few controls on rider jacks so they're relatively easy to operate and require comparatively little training.
Operators can step onto the platform instead of just walking behind or beside the jack. This means that they are a much faster choice for moving loads over longer distances vs manual or walkie pallet trucks. They're ideal for frequent movement over greater distances and they're used quite a bit in large warehouses and manufacturing facilities.
The riding platform is suitable for short distances, but not ideal for operators that use them all day long because they're relatively small and force the operator to stand at a sideways angle.
Rider jacks are heavier than manual or walkie pallet jacks so collisions can cause fairly serious injury and property damage. They offer little protection for the operator vs other options like center riders.
Center Riders
Center riders are similar to rider pallet jacks but they're safer for the operator and offer a more comfortable ride. The operator can stand fully forward or backward instead of just sideways.
There is also less risk for the operator since they're protected by the machine chassis on two sides, although they are still exposed to the potential risk of the lifting mechanism.
Center riders are harder to turn than rider pallet jacks and they're best suited for applications where the operator drives mostly in a straight path.
Center riders are often used in general manufacturing, warehouse and beverage.
Where To Rent Or Buy Pallet Jacks In Los Angeles
If you'd like assistance in evaluating pallet jack applications for your Los Angeles material handling operation, you can speak with a professional at Raymond West by calling 562-944-8067.
If you're anywhere in Southern California or Las Vegas, you can find us at these locations:
Raymond West
9939 Norwalk Blvd
Santa Fe Springs, California 90670
Phone: 562-944-8067
Ontario, CA
4602 E Brickell St.
Ontario, California 91761
Phone: 909-930-9399
San Diego, CA
12310 World Trade Dr
Ste 111
San Diego, California 92128
Phone: 858-679-1800
Valencia, CA
28303 Industry Dr.
Valencia, California 91355
Phone: 661-206-0462
Las Vegas, NV
2555 E. Washburn Rd.
North Las Vegas, Nevada 89081
Phone: 702-651-6480