Reach Trucks - Los Angeles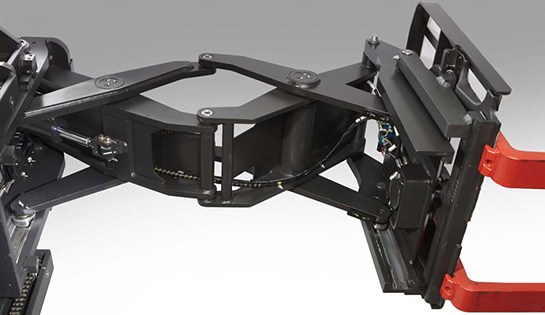 In Southern California, warehouse space is expensive and hard to come by. Raymond offers a line of narrow aisle reach trucks designed for warehouses where space utilization is critical.
The wheel base of a reach truck is the same as a counterbalanced lift truck, but the body is more compact, meaning that the turning radius is much smaller and it can be maneuvered in smaller aisles widths.
Reach trucks are specialized forklifts that are not appropriate for all warehouse operations. For instance, general dock work like loading/unloading trailers or case picking are not the right applications for a reach truck. Neither are VNA racking configurations that don't allow right angle stacking.
Specifications
When considering reach truck specs, it's important to consider your warehouse space, racking, and other factors including:
Overall load requirement, including shape, dimension and weight
Load capacity needed to full elevation
Top load beam
Aisle entry
Base leg openings
Clear ceiling height
Clear aisle requirements
Lift off space
Types of Reach Trucks
There are several classification types for electric reach trucks that offer varying mast height, minimum aisle, maximum lifting height, weight capacity, battery voltage, fork travel and operator stance options.
Raymond's 7000 Series delivers reach truck options for nearly any application:
The 24 volt Raymond 7200 Reach Fork Truck is engineered with smaller battery compartment dimensions, giving you the advantages of reduced energy costs and narrower aisles.
The 36 volt Raymond 7300 Reach Fork Truck is designed for small footprint, high throughput applications. With battery compartments ranging from 14-21 inches, this truck is engineered for versatility and performance.
The Raymond 7500 Universal Stance Reach Truck improves your selectivity and overall productivity. It's open view mast provides exceptional visibility when traveling and load handling, and it's idea for high rack applications.
Raymond's 7500 Dock Stance Reach Truck is great for dock areas and applications with lower lifting heights and shorter travel distances.
The Raymond 7700 Sit/Stand Reach Truck is ideal for long travel distances and it provides maximum ergonomic comfort for operators. The reach truck controls are designed with safety and daily usage in mind.
Raymond's 7310 4-Directional Reach Truck eliminates the need for right angle turns and is ideal for long load handling.
All 7000 series trucks have an available pantograph option. Pantograph reach trucks employs a scissor mechanism to extend the forks forward. These are used for double deep racking configurations where two pallets can be stored in each lane.
Raymond is among the top reach truck manufacturers, and is one of the most trusted reach truck brands in the material handling industry.
Reach Truck Rental, Leasing & Sales in Los Angeles
If you are considering the acquisition of reach trucks, you can speak with a professional at Raymond West by calling 562-944-8067. We are among the largest reach truck suppliers in California, offering new and used reach trucks, along with service, repair and parts.
If you're anywhere in Southern California or Las Vegas, you can find us at these locations:
Los Angeles, CA
9939 Norwalk Blvd
Santa Fe Springs, California 90670
Phone: 562-944-8067

Ontario, CA
4602 E Brickell St.
Ontario, California 91761
Phone: 909-930-9399

San Diego, CA
12310 World Trade Dr.
Ste 111
San Diego, California 92128
Phone: 858-679-1800

Valencia, CA
28303 Industry Dr.
Valencia, California 91355
Phone: 661-206-0462

Las Vegas, NV
2555 E. Washburn Rd.
North Las Vegas, Nevada 89081
Phone: 702-651-6480