Used Pallet Jack Selection Guide - Los Angeles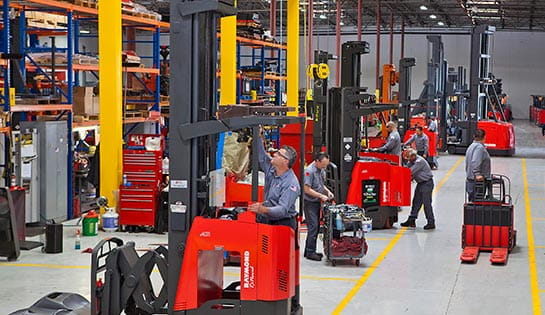 Buying used pallet jacks can be a smart way to maximize your budget, but you should be cautious when purchasing used equipment. If you find a pallet jack for sale it may have reached the end of its useful life and could be more expensive to maintain than you anticipate.
When buying a used motorized pallet jack, there are a number of things you should inspect:
When you first approach the pallet truck, look for any fluid leaks on the floor underneath or nearby.
Open the pallet jack battery compartment. Is it clean and dry? Is there any debris? Check that the battery cables and connectors are not corroded and are in good working order. Check the battery fluid level.
Check the hydraulic systems, including the cylinders/rods and the hoses, lines and fittings. Check the pallet jack hydraulic fluid level.
Inspect the forks carefully—will they need to be replaced soon, or do they have life left in them?
Check the condition of the pallet jack wheels and tires. Are they worn and pitted? Is there noticeable damage?
From a compliance perspective, make sure that all guards are attached, safety warning stickers are legible, there is a legible capacity plate attached and the vehicle includes an operator's manual.
While operating the electric pallet jack, listen for any unusual noises. Do the brakes work well? Run the vehicle in forward and reverse. Does it steer properly?
Check any instruments or gauges. Is the hour meter functional? Is the pallet truck battery discharge indicator functional?
Check the function of the hoist and lowering control. Is it fully functional ? Does it work smoothly? Does it raise/lower/tilt/swing properly? On the mast, inspect the lift chain and rollers.
Does the horn work? What about any lights/strobes or alarms on the vehicle?
Before purchasing, ask to see any maintenance records, and inquire about how often the units were serviced. Also find out when the pallet jack batteries and pallet truck wheels were last replaced.
If you want to take risk out of the equation, you can always buy refurbished used electric pallet jacks directly from a pallet truck distributor like Raymond West.
Located in Santa Fe Springs, Raymond West is one of the highest volume pallet jack distributors in Southern California serving clients across the Los Angeles metropolitan area.
Raymond gets lease and rental returns from fleet customers in Paramount, Vernon, Alhambra, North Long Beach, Lynwood and other major warehouse/industrial centers in L.A. County.

It then refurbishes all of those used electric pallet trucks to exacting standards under its Raymond ReNewed program. Raymond certified technicians are experts in pallet jack repair and use Raymond approved pallet jack parts for all of their refurbished pallet trucks.

When buying used vehicles from a pallet jack distributor, you can be assured that the vehicles have been serviced to the highest standards by knowledgeable technicians. Furthermore, most of the used pallet trucks are sourced from large corporate customers, meaning they have likely been inspected, serviced and cared for under a regular pallet jack maintenance program.
Used Pallet Jacks in Los Angeles
If you'd like assistance in sourcing refurbished pallet jacks, you can speak with a professional at Raymond West by calling 562-944-8067.
If you're anywhere in Southern California or Las Vegas, you can find us at these locations:
Los Angeles, CA
9939 Norwalk Blvd
Santa Fe Springs, California 90670
Phone: 562-944-8067
Ontario, CA
4602 E Brickell St.
Ontario, California 91761
Phone: 909-930-9399
San Diego, CA
12310 World Trade Dr
Ste 111
San Diego, California 92128
Phone: 858-679-1800
Valencia, CA
28303 Industry Dr.
Valencia, California 91355
Phone: 661-206-0462
Las Vegas, NV
2555 E. Washburn Rd.
North Las Vegas, Nevada 89081
Phone: 702-651-6480