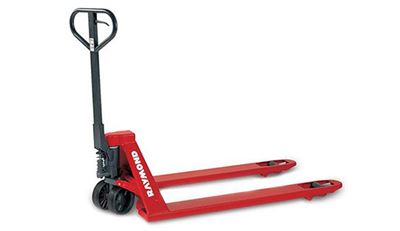 Raymond West is an Ontario supplier of new and used electric and manual pallet jacks.

We are backed by one of the largest service and parts operations in Southern California.

Call us today at (909) 930-9399
When you're thinking of buying pallet jacks it's necessary to evaluate the positive aspects and a few of the disadvantages of assorted varieties of pallet truck options.
As you can imagine, the principal use of a pallet truck is to position pallets around a distribution center, loading dock or some other enterprise where pallets have to be moved.
Having said that, depending upon the scale of your operation, the gross weight of pallets that will be transferred, the consistency of utilization and a few other considerations, you may benefit from a deeper understanding of which pallet trucks perform best in which environments.
The following feature is a summary of pallet jack varieties, functions, drawbacks and types of applications.
Hand Pallet Jacks
Non-motorized pallet trucks have been in existence since the early 1900's and have not been improved upon much since then. They are comprised of a steel chassis, a fork and a hydraulic apparatus that's mobilized by pushing the handle in an up and down motion.
The controller of a hand pallet truck positions the forks below the pallet, pumps the pallet above the floor and pushes the pallet to a chosen point, driving with the handle.
Situations where lift elevation is not crucial are appropriate uses for a hand pallet truck, including stock room aisles, warehouse loading docks and related uses. As opposed to a an actual lift truck, manual jacks are reasonably transportable and will fit in the back of a van or truck for delivering goods. The load limit of many hand pallet trucks is 5500 lbs.
Non-motorized pallet trucks are ideal for infrequent use conditions across limited ranges. They are not the most effective selection for transporting pallets across extended distances, slopes or bumpy surfaces because operators must physically maneuver the device. This is quite often physically tiring after a period of time, so other pallet jack options may be better in these situations.
Walkie Pallet Jacks
Despite the fact that they're just about double the size of non-motorized pallet trucks, walkies are nonetheless reasonably small in stature and they're extremely maneuverable.
Walkie pallet jacks are electrified by on-board battery packs. The battery delivers a powered assist for propelling and raising the forks. The user no longer needs to use the tiller to elevate the payload, nor do they have to manually maneuver the pallet throughout the warehouse.
Even so, they're known as walkies because the driver does still have to walk in back of or alongside them.
A walkie pallet truck's max rate of speed is modest as compared to rider jacks, considering that the user must keep up with the truck rather than catching a ride on it. This is, in fact, a bit of an inherent "safety feature" since restricted speeds also limit the consequences of collisions.
The weight capability of many walkie pallet trucks is anywhere between 4500-6000 lbs.
Regardless of the fact that they're more user-friendly than non-motorized pallet trucks, walkies must be charged consistently, given that they are battery based. In addition, they call for more upkeep than non-motorized pallet trucks simply because there are far more moving pieces and points of potential electrical issues.
The key uses for walkie pallet trucks are dock plates, trailers and short to middle distance warehouse runs.
Rider Pallet Trucks
Rider pallet jacks function like walkies apart from the fact that they come with a standing platform for the driver. There are few controls on rider pallet trucks so they are quite uncomplicated to control and require very little operator training.
Users can step up onto the platform as an alternative to just walking in the rear or on the side of the pallet truck. This means that rider trucks are a better solution for transferring pallets over lengthier spans versus walkie or manual pallet jacks. They are perfect for constant movement over longer ranges and they are used quite often in large warehouse complexes and industrial enterprises.
The small rider platform is practical for quick trips, but not great for drivers that make use of them throughout the day, because they are fairly minimal and cause the user to position themselves in a sideways stance.
Rider pallet trucks are larger than walkie or manual pallet trucks so accidents can result in relatively severe trauma and property harm. Rider pallet jacks afford minimal defense for the controller vs other choices such as center riders.
Center Riders
Center riders are reminiscent of rider pallet jacks but they are more secure for the user and feature a more ergonomic drive. The user can stand entirely backward or forward rather than only to the side.
Additionally, there is reduced exposure for the driver because they are shielded by the equipment frame on two sides, although they're nonetheless vulnerable to the possible dangers of the lifting system.
Center riders have a larger turning radius than rider pallet trucks and they are frequently employed for operations where the controller travels in a direct path.
Center riders are frequently used in general industrial operations, distribution center and beverage applications.
Where To Rent Or Buy Pallet Trucks In Ontario, California
If you'd like to speak with a Raymond representative about any type of pallet jack, please get in touch with Raymond West, an Ontario material handling supplier serving San Bernardino County & the Pomona Valley, including Chino, Corona, Fontana, Montclair, Norco, Ontario, Pomona, Rancho Cucamonga, San Bernardino and Upland.
Ontario, CA
4602 E Brickell St
Ontario, CA 91761
(909) 930-9399
7:00 AM - 5:00 PM
Monday - Friday