Robotic Palletizers | Ontario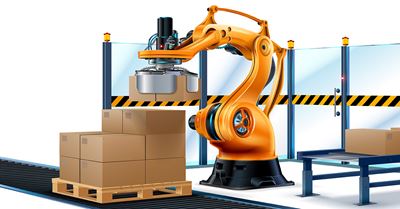 Raymond West supplies warehouse automation equipment such as robotic palletizers.

We are among the largest suppliers of warehouse automation equipment in the state.

Call us today at (800) 675-2500.
Robotic palletizers are increasingly being installed in warehouses as a way to improve efficiency, lower labor costs, and improve safety. The robotic palletizers are made to do the physically demanding and monotonous job of loading and unloading pallets, enabling human workers to devote themselves to value-added areas.
Faster Processing
One of the primary advantages of robotic palletizers is their capacity to work consistently and precisely at impressive speeds. The systems are able to manage a large number of products in a brief length of time, lowering the time necessary to fill and empty pallets. Robotic palletizers can also be programmed to handle a wide variety of goods, including boxes, bins, and irregularly shaped items. Such capability makes them a versatile option for warehouses handling a range of product types.
Robotic Palletizers Improve Safety
Another advantage of robotic palletizers is their capacity to limit labor costs. These systems can run around the clock without needing pauses or time off. They can also be programmed to perform tasks that can involve heavy lifting or deal with hazardous materials. This helps to reduce the chance of injuries in the workspace, improving safety for human employees.
Higher Accuracy
Beyond their productivity and cost-saving advantages, the robotic palletizers are able to enhance the accuracy of warehouse operations by placing products accurately on pallets, decreasing the chance of errors and product damage. They can additionally be configured to adhere to specific palletizing patterns, ensuring that goods are organized properly and ready for shipping.
Flexibility And Scalability
Another benefit of employing robotic palletizers is their flexibility and scalability. These automated systems can be readily integrated into warehouse operations and can be reconfigured quickly to handle new products or changes in demand. They can also be expanded or reduced in size according to the fluctuating needs of the storage facility, providing a flexible solution that can expand and adapt with the business.
Rapid ROI
Despite these advantages, it is important to note that implementing a robotic palletizing system entails a considerable upfront cost. However, these systems can quickly pay for themselves through the reduced labor expenses and the heightened productivity they deliver. Additionally, the long-term benefits of enhanced safety and accuracy can further add to the ROI.
Talk To A Warehouse Robotics Expert
Robotic palletizers offer a variety of benefits for warehouses aiming to enhance efficiency, decrease labor costs, and heighten safety. These robotic systems are able to efficiently manage a wide range of products at fast speeds, enhancing accuracy and minimizing errors. They can also be effectively merged into existing procedures and scaled to suit altering requirements, making them an adaptable and cost-effective option for storage centers of all sizes. To find out more about palletizers and various warehouse automation possibilities, reach out to an expert at Raymond West right away.
Raymond West's Ontario, California facility serves parts of Los Angeles County and San Bernardino County, including Ontario, Fontana, Rancho Cucamonga, Upland, La Verne, San Dimas, Covina, West Covina, Pomona, Diamond Bar, Rowland Heights, Chino, Norco, Eastvale, Corona, Jurupa Valley, San Bernardino, Rialto and all surrounding areas.
Raymond West | Ontario California Material Handling Equipment Supplier
4602 E Brickell St
Ontario, CA 91761
(909) 930-9399