Flexible Conveyors | Phoenix, AZ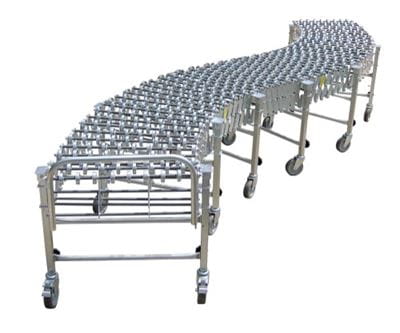 Flexible conveyors are an ideal solution for fast moving warehouses.

Raymond West is the top warehouse automation supplier in Arizona.

To speak with an automation expert, give us a call today at (602) 275-2228
Flexible conveyor systems enable you to relocate conveyor ingress or discharge sites by adjusting conveyor sectors based on ever-changing requirements during your hours of operation. These expandable conveyor solutions are often utilized in shipping centers or loading docks where truck trailers are unloaded and loaded. A single conveyor system can be used to feed multiple loading dock doors.
Flexible Gravity Conveyor
Flexible gravity conveyor systems are set up with skate wheels or non-powered conveyor rollers and are offered in a variety of widths and capacities, from lightweight systems for occasional use to heavy duty options suitable for deployment in distribution centers and other high volume operations.
Although steel skate wheels are typical, these conveyors can be constructed from other materials including aluminum, plastic and stainless steel.
Steel skate wheels include a multitude of benefits and are a great choice for a wide variety of enterprise applications from assembly lines to storage space. They are appropriate for flat surface, lightweight pieces like boxes. Since each wheel operates independently from the next, they are frequently used for curvilinear conveyor segments.
Gravity rollers are a better choice for heavier goods, and can also convey uneven package surfaces in addition to flat based items. Rollers don't spin as fast as discreet skate wheels, so roller solutions can be put to use for accumulation applications where skate wheels are not an option.

FMH Conveyors
Flexible Powered Conveyor
Loading docks are busy places that function in a number of capacities, from unloading trailers to loading individual cases onto delivery trucks. Compact, flexible, modular conveyors are the optimum way to improve efficiency on your loading dock while maintaining versatility.
In most modern warehouses, storage density is a premier concern. When not in service, these conveyors can be compactly folded, creating a much smaller storage footprint as opposed to other options.
Power conveyors can also boost ergonomic comfort and safety. By establishing an unimpeded line between the trailers at your dock and the ingress point of a permanent conveyor, these systems offer ergonomic benefits for your labor force, reduce the risk of injury, improve safety and enhance efficiency.
Roller conveyors come in a variety of roller widths, from 1.5-1.9 inches. They are fully height adjustable, allowing you to put them to use for different types of vehicles and applications. Featuring a load capacity of close to 100 lbs/foot, these conveyors are an optimal solution for a diverse range of products.
Powered options give you variable speeds, from 0-120 feet per minute. Stop and start controls are positioned on either end of the conveyor so that they can be operated from both sides. They are also outfitted with heavy duty castors and brakes, so they can be easily moved but securely fixed in place when needed.
Flexible conveyors are suitable for a wide variety of sectors, including e-com, distribution centers, beverage and grocery distribution, retail, 3PL, manufacturing, parcel post and more.
Expandable Conveyors Near Me
Raymond West offers a wide variety of modular conveyor systems in many different widths and categories. To discuss the benefits of flexible conveyors, reach out to a conveyor expert at Raymond West now!
Raymond West's Phoenix facility serves the entire Phoenix Metro area, including Phoenix, Tempe, Mesa, Gilbert, Chandler, Scottsdale, Glendale, Goodyear, Tolleson, Peoria and all surrounding areas.
Raymond West | Phoenix Material Handling Equipment Supplier
2659 E Magnolia St
Phoenix, AZ 85034
(602) 275-2228