Horizontal Carousel Systems | Phoenix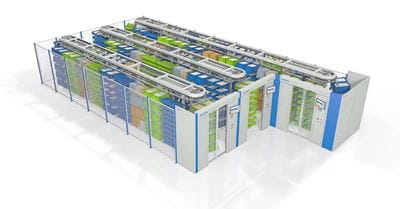 Raymond West supplies warehouse automation equipment such as horizontal carousels.

We are among the largest suppliers of warehouse automation equipment in the state.

Call us today at (800) 675-2500.
A horizontal carousel system is a type of automated storage and retrieval system (ASRS) implemented in warehouses and distribution centers to handle retrieval and storage of items efficiently. It consists of a set of bins or trays affixed to a rotating carousel, and pick materials are distributed to the station of the operator, in a "good-to-person" way.
The Advantages Of Horizontal Carousels
One of the main benefits of a horizontal carousel system is its ability to take advantage of storage area. Through using a turning platform, the system is capable of storing a greater quantity of materials in a limited floor plan, empowering material handling facilities to take advantage of their space more efficiently. This is especially advantageous in cases where floor area is restricted or costly.
A second advantage of horizontal carousel systems is their quickness and reliability. Due to the fact that the picking device can quickly and conveniently access the desired bin, the system can return components more quickly than a human picker. This can help warehouses and distribution centers cut back the time required to fulfill orders, which lends itself to enhanced performance and customer gratification.
Beyond these benefits, these storage systems can also help distribution centers and warehouses reduce their employment spending. Since the system is computerized, it is able to operate 24/7 without needing breaks or shifts. This lessens the necessity to utilize a workforce, which is often especially helpful for material handling facilities that must fulfill orders on a constant timeframe.
Horizontal Carousel Types
There are varying unique styles of horizontal carousel systems available, each including a few unique advantages and attributes. Several of the most frequently used types include:
Standard Horizontal Carousel: These "typical" horizontal conveyors are often clustered jointly into a workstation or pod and used for batch picking needs. The amount of carousels necessary for each pod depends on volume expectations. Wares can be retrieved by either a human employee or a automated arm.
Put Horizontal Carousel: This variety of ASRS operates similarly to a put wall, but instead of a wall it consists of a carousel of trays. It is often used within an operation, or for consolidation.
Robotic Horizontal Carousel: Fully robotic carousels spin the needed tray to an insertion/extraction point, which selects the appropriate tray on demand. A conveyor delivers the tote to its next step in the operation.
When considering a horizontal carousel system for a warehouse or distribution center, it's crucial to systematically examine the unique demands of the operation. A few factors to review include the floor plan and size of the material handling facility, the types of items being stored, and the quantity of orders that need to be fulfilled.
In addition to the preliminary cost of the horizontal carousel, facility administrators will also need to consider ongoing maintenance and repair expenditures. It's critical to select a carousel that is durable and reliable, as interruptions can be pricey in terms of lost productivity and customer satisfaction.
Contact A Warehouse Automation Expert
Collectively, horizontal carousel systems are usually an advantageous investment for material handling facilities looking to elevate productivity and reduce spending. By automating the storage and retrieval of goods, these systems can help businesses enhance output, reduce labor costs, and raise customer satisfaction.
Raymond West's Phoenix facility serves the entire Phoenix Metro area, including Phoenix, Tempe, Mesa, Gilbert, Chandler, Scottsdale, Glendale, Goodyear, Tolleson, Peoria and all surrounding areas.
Raymond West | Phoenix Material Handling Equipment Supplier
2659 E Magnolia St
Phoenix, AZ 85034
(602) 275-2228