Robotic Palletizers | Phoenix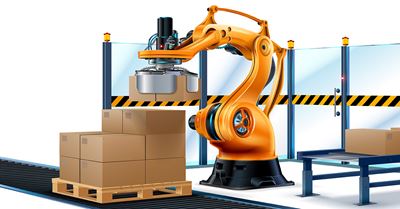 Raymond West supplies warehouse automation equipment such as robotic palletizers.

We are among the largest suppliers of warehouse automation equipment in the state.

Call us today at (800) 675-2500.
Robotic palletizers are increasingly being installed in storage facilities as a method to enhance productivity, reduce labor costs, and improve safety. These systems are made to do the strenuous and monotonous role of loading and unloading pallets, enabling human workers to concentrate on value-added tasks.
Faster Processing
One of the main advantages of automated palletizers is their ability to work consistently and reliably at high speeds. These systems are able to handle a large number of items in a brief period of time, reducing the time it takes to pack and unload pallets. Robotic palletizers can also be programmed to handle a broad range of products, including boxes, bins, and odd-shaped objects. Such capability makes them a versatile option for storage facilities handling a variety of product types.
Robotic Palletizers Improve Safety
An additional advantage of robotic palletizers is their ability to limit labor expenditures. These systems can run non-stop without needing breaks or rest time. Additionally, they can be programmed to execute tasks that might necessitate heavy lifting or deal with hazardous substances. This helps lower the risk of injuries in the workplace, boosting safety for human workers.
Higher Accuracy
In addition to their efficiency and cost-saving benefits, the robotic palletizers can enhance the precision of warehouse operations by placing products precisely on pallets, reducing the possibility of errors and product damage. They can also be set to adhere to specific palletizing patterns, ensuring that goods are arranged correctly and prepared for shipping.
Flexibility And Scalability
Another pro of using robotic palletizers is their versatility and scalability. These automated systems integrate readily into existing warehouse operations and can be adjusted speedily to accommodate new products or changes in demand. They can also be scaled up or down to meet the varying needs of the storage facility, offering a flexible solution that can expand and adapt with the business.
Rapid ROI
In spite of these advantages, it should be noted that implementing a robotic palletizing system does require a considerable upfront cost. However, these systems can rapidly yield a return on investment through the decreased labor expenditures and the improved efficiency they offer. Additionally, the extended benefits of improved safety and accuracy can further contribute to the overall profitability.
Talk To A Warehouse Robotics Expert
Robotic palletizers offer a variety of advantages for warehouses aiming to decrease labor costs, improve efficiency, and heighten safety. These robotic systems can effectively manage a extensive product range at high speeds, enhancing accuracy and limiting mishaps. They can also be conveniently integrated into existing operations and sized to suit changing needs, making them a versatile and cost-effective solution for warehouses of all sizes. To learn more regarding palletizers and various warehouse automation alternatives, reach out to a professional at Raymond West today.
Raymond West's Phoenix facility serves the entire Phoenix Metro area, including Phoenix, Tempe, Mesa, Gilbert, Chandler, Scottsdale, Glendale, Goodyear, Tolleson, Peoria and all surrounding areas.
Raymond West | Phoenix Material Handling Equipment Supplier
2659 E Magnolia St
Phoenix, AZ 85034
(602) 275-2228