Forklift Battery Supply | Santa Barbara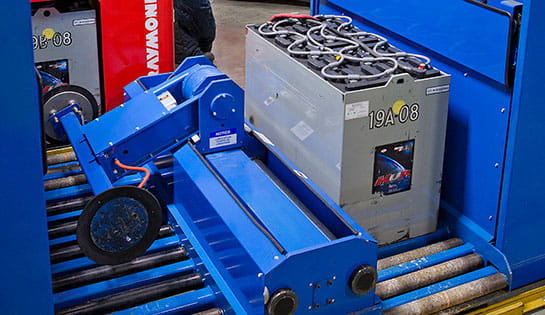 Raymond West is a Santa Barbara supplier of new and used forklift batteries, chargers and handling equipment.

We are backed by one of the largest service and parts operations in Southern California.

Call us today at (805) 749-2777
Power economy guidelines and "green" solutions recognition are propelling extraordinary interest in the international electric battery marketplace.
Though this boost in interest is fostering new R & D in power storage innovation, lead acid technology is still the go-to technology for almost all commercial uses, including fork lifts. Although lead acid battery varieties possess less power density than many of the more modern kinds of batteries, they manage to preserve a steady voltage as they run down, they can perform across a vast range of thermal levels and they may be faithfully recharged/ emptied over countless charging cycles.
The expansion in world wide battery orders has also precipitated marked cost growth over the last decade. Increased battery prices suggest that expanding your fork lift battery life span can certainly have a consequential effect on your profits.
Service and upkeep of batteries has an unquestionable influence on their useful hours of service, so a modest purchase of top notch battery handling accessories can create material cost reductions in the long run.
Raymond West features a complete collection of battery handling systems from major producers:
Battery Beam
We supply battery hoisting beams using insulated composition and adaptable hook points. Beams offer a productive and time-saving way to manage bulky industrial fork lift batteries.
Battery Crane
Raymond's gantry crane choices are perfect for upward battery extrication purposes. We supply a range of beam spreads, capacities and heights.
Battery Chargers
Raymond offers both new and previously owned commercial battery chargers for all varieties of uses from single shift, standard use distribution centers to 24 x 7, maximum use businesses. Ask us about our charger and battery lease and rental plans.
Battery Carriages & Carts
Lift truck battery transfer carts make it possible for employees to securely extract and switch out lift truck batteries that are designed for side-removal. We provide power controlled solutions for heavy use operations and non-powered solutions for smaller volume applications.
Battery Hoist
Raymond provides a wide array of battery hoist products according to battery weights, frequentness of utilization and facility setup.
Battery Wash Equipment
Battery cleansing facilities lower terminal and conductor deterioration, prolong the useful life of batteries, cut down on fork lift power issues, and assist in compliance with environmental guidelines.
Battery Watering Systems
Raymond supplies complete battery watering solutions together with individual pieces, from containers and deionization appliances to watering valves and guns.
Battery Room
Battery areas should certainly be appointed with appropriate air handling systems, proper flooring surfaces, wash facilities, essential safety resources plus all essential battery handling products. Our experts can help to lay out your facility and supply all battery handling resources for your enterprise.
Battery Extractors
Fork lift battery extractors are required tools for any material handling business that needs constant battery swaps.
Battery Stands
Conserve space and safeguard your battery stock with charger and battery stands. Raymond offers a comprehensive collection of products and can individualize systems for your individual demands.
Forklift Batteries in Santa Barbara, California
If you'd like to speak with a Raymond representative about lift truck batteries or power systems, please get in touch with Raymond West, a Santa Barbara forklift dealer serving all of Santa Barbara County, including: Buellton, Carpinteria, Goleta, Lompoc, Santa Barbara and Santa Maria.
Santa Barbara, CA
3905 State St
Santa Barbara, CA 93105
(805) 749-2777
7:00 AM - 5:00 PM
Monday - Friday