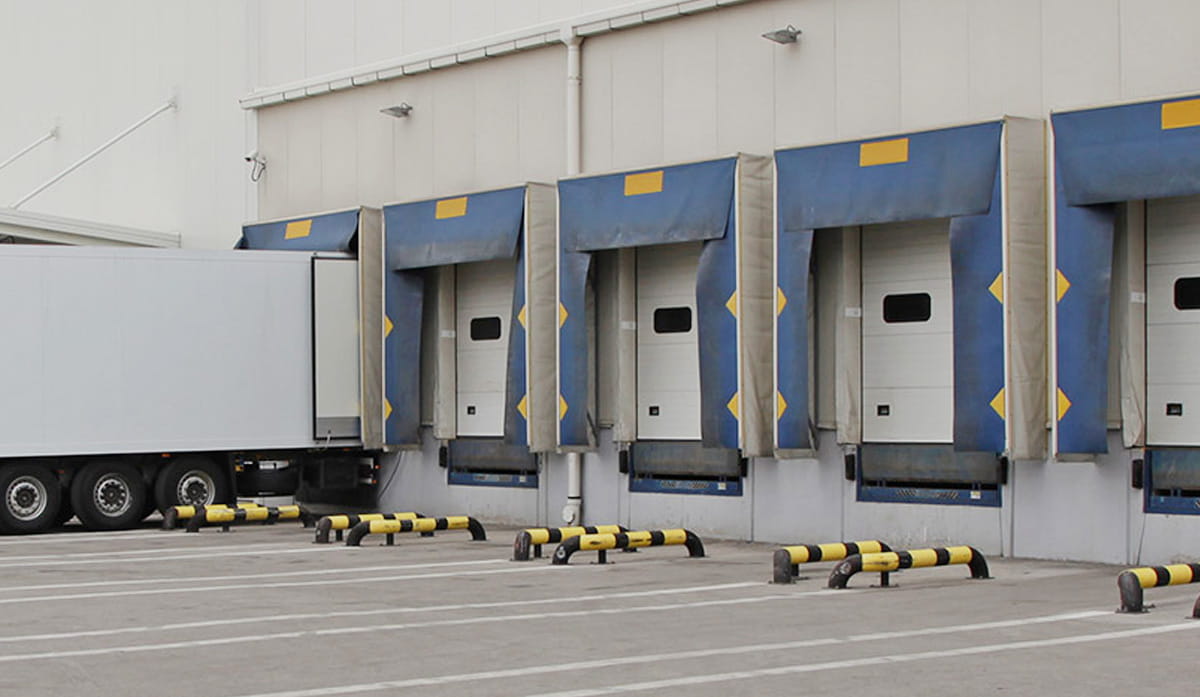 Raymond West supplies loading dock seals in the Tucson area.

We are backed by one of the largest service and parts operations in Arizona.

Call us today at (520) 729-4222
If you're in the market for dock seals, Raymond West provides a diverse variety of options to serve your needs.
Dock seals can assist in maintaining a controlled atmosphere on your loading dock and protect goods from weather as they move in and out of your warehouse.
Are dock seals really needed? There are many benefits to adding them, including:
Energy savings: Dock seals can generate a rapid return on investment by reducing your facility's climate control expenditures.
Safety: damp concrete is slippery and hazardous. Defending your dock against the elements makes it far more secure for your employees.
Comfort: no one enjoys working in harsh conditions like snow or rain. The morale, productivity and comfort of your workers will be enhanced when you seal your doors.
Freight protection: Seals keep rats, mice and other pests away from your warehouse and shield it against the elements.
Peace of mind: Seals assist with keeping unauthorized people out of your building.
Short term storage: trailers can act as short term, secure, temperature-controlled additions to your warehouse.
Dock Seals Come in a Variety of Different Designs
Dock seals are typically fabric-covered foam panels that are fastened to the outside of your loading dock door frames. When a trailer pushes against it, the foam gets squeezed, making a secure seal that blocks wind and precipitation. Seals are typically applied to smaller door openings, and they can limit air flow on your dock with up to 90% efficiency.
Fixed Head Dock Seal: A foam-filled side and head pad are used in this kind of dock seal. For applications with uniform truck heights and conventional dock parameters, it's one of the most widely used and effective dock seals.
Head Curtain Dock Seal: This kind of dock seal is employed when your facility has a lot of variation in truck heights and door heights. It has foam-filled side pads. This type of seal generally has either an adjustable or fixed head curtain. Foam-filled curtains are also available, which can create a more airtight seal and enhance its energy efficiency.
Adjustable Head Pad: Frequently seen in the past, this type of seal is no longer in demand due to advances in seal technology. This seal, similar in function to a "Head Curtain," is well suited for variable trailer heights and door sizes.
L-Shaped Dock Seal: This seal has "L" shaped side pads, as the name implies. The seal's shape and expanded protrusion make it ideal for bigger door openings. The configuration and protrusion are intended to seal the trailer's sides rather than the back. This permits enhanced entry and exit to the trailer's back end. A "curtain" or "fixed head" header is utilized on this category of seal.
Inflatable Seal: When a trailer is backed up to the dock door, the inflatable seal inflates with the help of a blower mechanism. These seals are usually part of an interlock system with the door and/or dock leveler, and will inflate only when the door and leveler are in the appropriate positions. Inflatable seals come in a wide range of sizes and shapes.
Dock Seals Near Me
To get more information on dock seal options for your warehouse, get in touch with a loading dock equipment professional at Raymond West now!
Raymond West's Tucson facility serves Pima County, including Tucson, South Tucson, Marana, Oro Valley, Sahuarita and surrounding areas
Raymond West | Tucson Material Handling Equipment Supplier
Tucson Service Area
(520) 729-4222