Dock Leveler Repair | Santa Clarita / Valencia / San Fernando Valley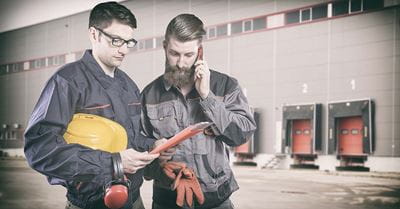 Raymond West offers dock leveler repair in Santa Clarita / Valencia.

Give us a call today at (661) 206-0462.
Having a dock leveler out of commission can hamstring the everyday performance of your distribution center or warehouse. On a busy dock, keeping all slots available is essential for maintaining the flow of products to and from your warehouse. It's a good idea to have a consistent, steady business partner that can get your dock equipment repaired and ready quickly in the event of a problem.
Dock Leveler Service
Raymond West offers repair and maintenance for all types of dock leveling equipment:
Hydraulic Repair: we offer repair and maintenance for all brands of hydraulic dock levelers. Additionally, we service controls, signaling systems and interlock systems.
Mechanical Repair: for non-powered dock leveling equipment, we maintain and repair springs and all other components in need of service.
Air Bag Replacement: we provide bag inspection and replacement for many types of air-powered levelers.
Edge-of-Dock Repair: for edge-of-dock devices, we offer maintenance and repair, in addition to dock bumper renewal when necessary.
Dock Leveler Installation
When you're replacing dock levelers, plans can get complex quickly, especially for retro-fit scenarios. While attaching basic edge-of-dock units can be done in just a short time, adding new pit levelers can require permits, demolishing and forming concrete, adding curb steel, wiring and much more.
When it comes to more advanced projects, it's important to hire a more sophisticated installation contractor that specializes in loading dock equipment. While most industrial door repair vendors are proficient in general dock leveler maintenance, the vast majority are not competent enough to take on large-scale installation projects and will sub-contract their work to businesses that have more experience in installation services.
Dock Equipment Maintenance
To keep your dock leveling equipment, bumpers, interlock systems, dock locks and other dock equipment in perfect condition, you may want to think about a regular maintenance and inspection program. With a professional maintenance plan you can cut out expensive downtime and unplanned service charges. Raymond West offers convenient, affordable maintenance programs that will keep your warehouse equipment in excellent condition.
Why Raymond West
Raymond West is a dock and door specialist that serves the entire West Coast, including the Pacific Coast, Arizona, Nevada, Idaho and Montana. With more than 400 techs and 19 locations, we have the resources and knowledge to get the job done right every time. Through our affiliation with Raymond Corp, we can coordinate service for any location in the United States.
No matter whether you're a small warehouse operation or a nationwide enterprise, we have the scale and size to consistently serve you with our highly trained technical team regardless of where you are.
Dock Equipment Repair Near Me
For dock leveler repair, call us today! There is always a Raymond dock equipment expert ready to assist.
Raymond West's Santa Clarita / Valencia facility serves the northern region of Los Angeles County and the San Fernando Valley, including Valencia, Santa Clarita, San Fernando, Sylmar, Sun Valley, Reseda, Canoga Park, Van Nuys, North Hollywood, Burbank, Glendale, Pasadena, Hollywood and all surrounding areas.
Raymond West | Santa Clarita / San Fernando Valley Material Handling Equipment Supplier
28303 Industry Dr
Valencia, CA 91355
(661) 206-0462