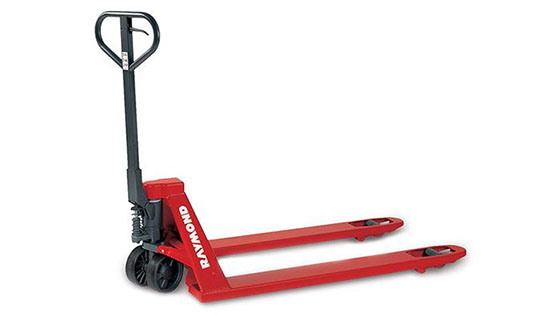 Raymond West is a Valencia / Santa Clarita supplier of new and used electric and manual pallet jacks.

We are backed by one of the largest service and parts operations in Southern California.

Call us today at (661) 206-0462
If you are contemplating the acquisition of pallet trucks, it's crucial to understand the advantages and a couple of the negative aspects of assorted types of pallet trucks.
Without a doubt, the main purpose of a pallet truck is to move pallets around a storage facility, loading dock or other operation where pallets have to be transferred.
That being said, depending on the scale of your enterprise, the weight of pallets that will be transported, the frequency of use, and various other factors, you may want to gain a deeper awareness of which pallet trucks perform best in which environments.
The following information is a synopsis of pallet truck types, features, limitations and use scenarios.
Hand Pallet Jacks
Manual pallet trucks have been used since around 1920 and have never evolved much since that era. They are comprised of a steel framework, a fork and a hydraulic pump that's mobilized by forcing the handle in an up and down motion.
The operator of a hand pallet jack settles the forks below the pallet, elevates the pallet above the ground and pushes the pallet to a chosen spot, steering the pallet jack with the handle.
Any place where lift elevation is not essential is a suitable use for a non-motorized pallet jack, including storage room aisles, warehouse back rooms and related uses. In contrast to a lift truck, they're also somewhat portable and will fit in the back of a vehicle for deliveries. The load capacity of the majority of manual pallet jacks is about 5500 pounds.
Non-powered pallet trucks are suitable for periodic use conditions over limited distances. Manual units are not the best option for moving payloads across lengthier ranges, inclines or coarse terrain. Users need to manually pull or push the pallet jack which may be physically exhausting after a while.
Walkie Pallet Jacks
Despite the fact that they're about twice the overall size of manual pallet jacks, walkies are still fairly small in size and they are extremely maneuverable.
Walkie pallet jacks are powered by on-board battery packs. The battery supplies an electrical assist for operating and raising the forks. The user no longer must activate the handle to lift the load, nor do they have to manually maneuver the load along through the warehouse.
Nonetheless, they're still referred to as "walkies", given that the driver does still have to walk at the rear of or alongside them.
A walkie pallet jack's maximum speed is modest as compared to rider jacks, because the user must keep up with the jack rather than stand on it. This is in fact somewhat of an inherent "safety feature", since minimized speeds also lessen the significance of collisions.
The capacity of most walkie pallet trucks is between 4500-6000 lbs.
Regardless of the fact that they're more accommodating than hand pallet trucks, walkies must be recharged regularly, given that they're battery operated. In addition, walkies need more servicing than hand pallet trucks due to the fact that there are a lot more moving components and points of failure.
The major uses for walkie pallet jacks are loading docks, staging areas and brief to mid-distance runs.
Rider Pallet Jacks
Rider pallet jacks function like walkies, except that they come with an additional user platform for the user. There are few controls on rider jacks so they're reasonably simple to control and users need minimal training.
Operators can step onto the platform as opposed to just walking beside or behind the jack. This means that rider trucks are a much better solution for transporting payloads across lengthier distances vs walkie or manual pallet trucks. They're ideal for constant movement over greater distances and they are used frequently in large distribution centers and manufacturing operations.
The driver platform is practical for shorter spans, but not ideal for drivers that handle them day in and day out because they are fairly small and force the driver to stand in an unnatural stance.
Rider jacks are heavier than walkie or manual pallet jacks, so accidents can cause relatively severe trauma and property damage. Rider pallet trucks provide very little defense for the user vs other equipment such as center riders.
Center Riders
Center riders are reminiscent of rider pallet jacks, but they're more protective of the user and deliver a more pleasant experience. The user can stand entirely to the back or to the front instead of solely obliquely.
In addition there is less risk for the user, because they're protected by the machine frame on two sides, although they are still subjected to the potential risk of the lifting machinery.
Center riders are harder to turn than rider pallet jacks and they are most suitable for uses where the operator proceeds mostly in a straight path.
Center riders are typically seen in general manufacturing, warehouse and beverage uses.
Where To Rent Or Buy Pallet Trucks In The San Fernando Valley
If you'd like to speak with a Raymond representative about pallet jacks, please get in touch with Raymond West, a Valencia material handling equipment supplier serving Valencia, Santa Clarita & the San Fernando Valley, including: Alhambra, Burbank, Canoga Park, Chatsworth, Glendale, North Hollywood, Northridge, Pasadena, San Fernando, Simi Valley, Sun Valley, Sylmar, Thousand Oaks and Van Nuys.
Raymond West
28303 Industry Dr
Valencia, CA 91355
(661) 206-0462
7:00 AM - 5:00 PM
Monday - Friday