Robotic Palletizers | Santa Clarita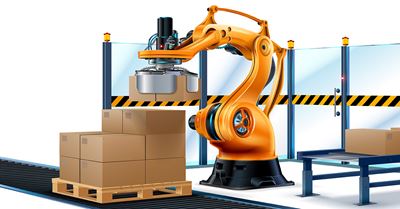 Raymond West supplies warehouse automation equipment such as robotic palletizers.

We are among the largest suppliers of warehouse automation equipment in the state.

Call us today at (800) 675-2500.
Robotic palletizers are increasingly being used in storage facilities as a way to boost productivity, lower labor costs, and improve safety. These systems are made to do the physically demanding and repetitive task of loading and unloading pallets, freeing up human workers to concentrate on higher-value areas.
Faster Processing
One of the primary benefits of automated palletizers is their ability to work continuously and accurately at impressive speeds. The systems are able to handle a significant number of goods in a quick period of time, reducing the time required to pack and discharge pallets. Robotic palletizers can also be programmed to handle a wide variety of goods, including totes, bins, and irregularly shaped objects. Such capability makes them a flexible option for locations that store a variety of products.
Robotic Palletizers Improve Safety
An additional advantage of robotic palletizers is their capacity to limit labor costs. These systems can run at all times without needing breaks or time off. Additionally, they can be programmed to execute jobs that can involve strenuous lifting or deal with hazardous substances. This can help lower the chance of injuries in the work environment, enhancing safety for human employees.
Higher Accuracy
Besides their productivity and cost-saving advantages, these systems can enhance the precision of warehouse tasks by positioning products precisely on pallets, decreasing the chance of errors and product damage. They can also be set to adhere to specific palletizing patterns, making sure that products are arranged properly and ready for shipping.
Flexibility And Scalability
Another benefit of employing robotic palletizers is their versatility and scalability. These automated systems can be effortlessly integrated into warehouse operations and can be reconfigured hastily to handle changing product lines or demand. They can also be expanded or reduced in size to meet the varying needs of the storehouse, providing a flexible solution that grows and changes with the business.
Rapid ROI
Even with these advantages, it should be noted that installing a robotic palletizing system involves a substantial upfront investment. However, these systems can quickly recoup their cost through the lowered labor costs and the heightened efficiency they deliver. In addition, the long-term benefits of enhanced safety and accuracy can further expand on the return on investment.
Talk To A Warehouse Robotics Expert
Robotic palletizers offer a multitude of benefits for warehouses aiming to enhance efficiency, heighten safety, and decrease labor costs. These automated systems can effectively handle a diverse product range at fast speeds, furthering precision and minimizing mistakes. They can also be conveniently merged into existing procedures and scaled to accommodate developing needs, meaning they are an adaptable and cost-effective solution for facilities of all scales. To find out more about palletizers and various warehouse automation alternatives, get in touch with an expert at Raymond West right away.
Raymond West's Santa Clarita / Valencia facility serves the northern region of Los Angeles County and the San Fernando Valley, including Valencia, Santa Clarita, San Fernando, Sylmar, Sun Valley, Reseda, Canoga Park, Van Nuys, North Hollywood, Burbank, Glendale, Pasadena, Hollywood and all surrounding areas.
Raymond West | Santa Clarita / San Fernando Valley Material Handling Equipment Supplier
28303 Industry Dr
Valencia, CA 91355
(661) 206-0462