Vertical Lift Modules | Santa Clarita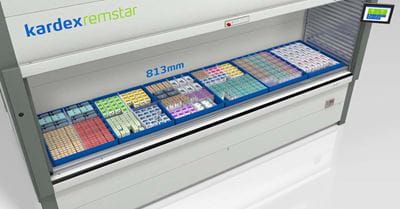 Raymond West offers a full line of vertical lift modules for industrial applications.

We are backed by one of the largest service and parts operations in the state.

Call us today at (800) 675-2500.

Vertical lift module (VLM) setups are automatic retrieval and storage apparatuses that are often configured in warehouses, distribution centers, and other material handling facilities. These setups have a series of vertically positioned storage bins or trays which are accessed using a mechanical lift. The lift is manipulated with a computer that directs the retrieval and storage of bins or trays to the storage area.
VLM setups are intended to create effective and efficient collection and replacement of components in a material handling facility. VLM's can be used to store a diversity of different types of materials, including totes, boxes, and pallets. The vertical alignment of the storage trays lends itself to a higher density of storage in a smaller area, meaning they are an ideal solution for material handling facilities with smaller floor space.
Vertical Lift Module Benefits
An essential benefit of VLM configurations is their extensive automation. The computer-controlled lift apparatus can efficiently and exactly find the intended bin or tray, reducing the necessity for manual retrieval or storage and improving the efficiency and speed of the retrieval and storage operation. VLM systems also normally demonstrate a greater storage capacity, so they are suitable for deployment in larger warehouses and distribution centers.
Another benefit of VLM configurations is the optimization of the space used in a warehouse or distribution center. The vertical orientation of the storage trays allows for a higher density of storage, limiting the amount of floor space required by storage and making additional areas for additional applications. Additionally, VLM configurations are able to be deployed to accommodate a whole variety of bin proportions and configurations, creating the possibility to customize the system to the specific needs of the warehouse or distribution center.
VLM setups also can be coupled with different material handling implements, such as forklifts and conveyor systems, to additionally raise the speed of the retrieval and storage operation. As an example, VLM systems are able to be used alongside conveyor systems to automatically relocate pieces to and from the stacked storage, reducing the need for employees to partake in handling.
VLM systems can be engineered to satisfy the individual needs of a warehouse or distribution center. For example, they are able to be configured to accommodate differing sizes and sorts of materials, as well as differing retrieval and replacement needs. In addition, VLM systems can be equipped with various features to improve safety, like safety barriers and warning lights.
Talk To A VLM Expert
Overall, VLM systems are an optimized and effective solution for distribution centers and warehouses that need to store and retrieve a large amount of materials in a small footprint. They enable a high level of automation, a high storage capacity, and optimized use of floor space inside a distribution center. With the various styles and configurations for sale, VLM systems can be customized to meet the case by case requirements of any distribution center or warehouse. In order to learn more about the prospects of VLM systems for your operation, talk to an automation expert at Raymond West right away.
Raymond West's Santa Clarita / Valencia facility serves the northern region of Los Angeles County and the San Fernando Valley, including Valencia, Santa Clarita, San Fernando, Sylmar, Sun Valley, Reseda, Canoga Park, Van Nuys, North Hollywood, Burbank, Glendale, Pasadena, Hollywood and all surrounding areas.
Raymond West | Santa Clarita / San Fernando Valley Material Handling Equipment Supplier
28303 Industry Dr
Valencia, CA 91355
(661) 206-0462