Yard Ramps | Santa Clarita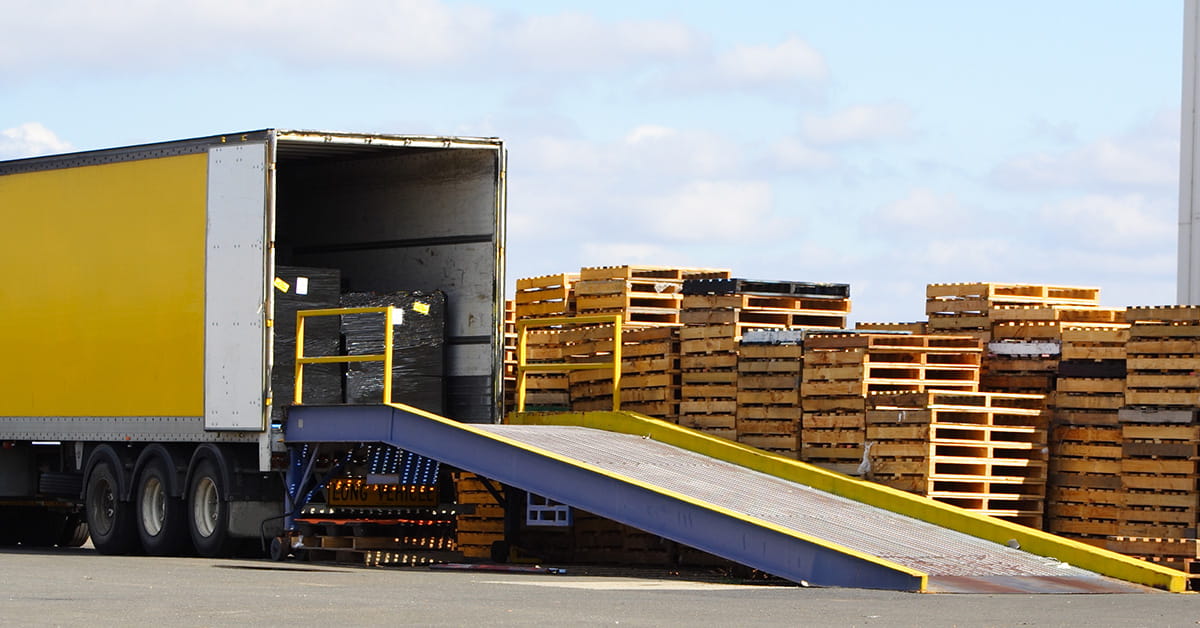 Raymond West supplies high quality yard ramps for warehouse and industrial use.

We are backed by one of the largest service and parts operations in the state.

Call us today at (800) 675-2500
What is a Yard Ramp?
A yard ramp is the equivalent of a transportable loading dock. It's a ramp that can be pushed up to the entrance of a cargo container, semi trailer or rail car to permit access by forklifts or pallet trucks.
Yard ramps serve two basic purposes and have two distinct categories:
Mobile Yard Ramps: For locations without a loading dock, they allow forklift access to semi trailers and cargo containers for loading and unloading. This can be at a permanent location or a temporary job site. Ramps can be readily repositioned and the height can be adapted to various vehicle heights.
Stationary Yard Ramps: For facilities that have a loading dock, a yard ramp can allow forklifts and other vehicles to proceed from dock level down to ground level and vice versa. Since this style of ramp isn't relocated often, it generally doesn't have the positioning features included with a portable ramp.
Yard Ramp Configuration
Yard ramps are primarily steel construction, although there are also lighter weight aluminum styles available. Yard ramp lengths vary by type, but they are generally about 30-40 feet long. Ramps designed for lift truck traffic have a "level off" segment at the top of the slope so that forklifts have some space to maneuver.
Portable yard ramps are typically configured with solid pneumatic tires so they can be easily relocated. Ramps can be moved with a fork truck using a positioning sleeve attached to the bottom end of the ramp. The height of the ramp is adjusted with a hydraulic unit.
Ramp surfaces vary, but are often constructed of steel grating or diamond plate. Side rails prevent lift trucks or other equipment from rolling off the edge. At the elevated end of the ramp there is a lip designed to overlap the trailer floor or loading dock surface.
Yard Ramp Applications
As stated, yard ramps can either enable retrieval of freight or goods from truck height, or allow equipment to travel on and off of a loading dock. That can be beneficial in a number of circumstances:
Vehicle Access To Buildings: Yard ramps can allow lift trucks to move freely in facilities that have both a plant or warehouse and an outside storage yard. They can also allow other vehicles like pickup trucks or vans to drive into a facility for loading and unloading or maintenance. If your facility requires frequent travel from dock to ground, there are also stationary ramp options that can be installed.
Industrial Storage Yards: A very common use of yard ramps is in industrial storage yards where no loading docks can be built.
Equipment Relocation: Another common application is for moving heavy equipment, whether it's for oil & gas, construction, forestry, mining or other industrial segments that use large equipment.
Work Sites: While yard ramps are common in the construction industry, there are many other remote work site scenarios where they may be useful: loading agricultural totes, military equipment and supplies, outdoor concerts and festivals, etc.
Dock Expansion: When a plant or warehouse does not have enough loading dock slots available, whether because of temporary volume spikes or unexpected demand, yard ramps can help increase capacity on a temporary basis without construction.
Yard Ramps Near Me
For yard ramp questions, sales or rentals, contact a material handling expert at Raymond West today. We have a vast range of choices for almost any application.
Raymond West's Santa Clarita / Valencia facility serves the northern region of Los Angeles County and the San Fernando Valley, including Valencia, Santa Clarita, San Fernando, Sylmar, Sun Valley, Reseda, Canoga Park, Van Nuys, North Hollywood, Burbank, Glendale, Pasadena, Hollywood and all surrounding areas.
Raymond West | Santa Clarita / San Fernando Valley Material Handling Equipment Supplier
28303 Industry Dr
Valencia, CA 91355
(661) 206-0462