Do you need dock seals or shelters? Part 2: Shelters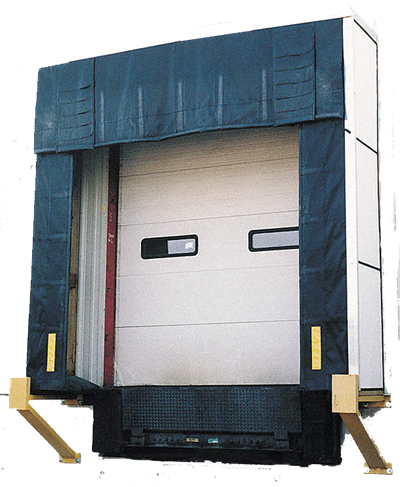 What are the primary applications for dock seals vs shelters? And what configurations are available for either option?

In this two part series, we'll walk you through your choices and help you discover the best configuration for your facility.
In our first article, we talked about why it's necessary to seal your dock area, and walked you through the various types of dock compression seal options. This article will explain the different options available for dock shelters, and wrap up with a section on what to consider when choosing between seals and shelters.
What Exactly is a Dock Shelter?
Most dock shelters are constructed with a wood or metal frame that can be rigid or flexible. Fabric and/or fiberglass is typically attached to the outer surface and fabric curtains attach to the face of the shelter. These curtains seal the sides and top of the trailer when it's up against the door opening. Shelters are generally used for larger door openings, and in situations where there is more variability in truck sizes. Shelters can achieve about 70% air flow efficiency.
Rigid Dock Shelter: Rigid shelters are the most popular option, and they are widely used for oversized doors in applications where there is high variability in trailer height and full access to the rear of the trailer is needed. Rigid sides and head frames are supported by steel supports and are generally configured with fiberglass sides to maximize light during daytime work. The head frame doubles as a canopy to protect the dock area from rain and snow.
Flexible Shelters: Flexible shelters are designed to mitigate shelter and building damage in situations where an approaching truck is off-center. Like rigid shelters, they are well suited for oversized doors and variable trailer types. These types of shelters use either gravity or a spring mechanism to keep the shelter tight against the trailer.
Combo Soft Sided Shelter: The combo is like a cross between a flexible dock seal and a shelter. The sides are made like a foam dock seal, while the head member is built like a rigid frame dock shelter. The sides tightly seal the trailer and provide a greater energy efficiency than a conventional rigid shelter. These types of shelters can also mitigate trailer impact because of their flexibility and cushioning.
Shelter Weather Canopy: Weather canopies have a head member assembly that can be combined with a shelter or seal to add a higher degree of rain and snow protection versus typical rigid shelter tops and seal curtains. These are suitable when trailer heights are relatively consistent.
Inflatable Shelter: Like other shelters, inflatable units seal the sides of the trailer allowing full access to the trailer entry. Inflatable shelters use a blower to inflate once a truck is backed up to the dock door. These types of shelters are generally part of an interlock system with the door and/or the dock leveler, where the shelter will only inflate once the door and leveler are in the correct positions. Many sizes and shapes of inflatable shelters are available.
Mechanical Rail Shelter: For railcar applications, this is a basic shelter that is spring loaded or counterweighted and made to extend once a railcar is positioned at the opening. These units are made specifically for the oversized doors found in railcar loading areas. Mechanical rail shelters can be three or four sided to reduce air flow. Many of these shelters are combined with an overhead canopy to protect the unit while it's in its stored position.
Inflatable Rail Shelter: Like mechanical rail shelters, these units are designed for very large openings for railcars. Equipped with an external blower, the inflatable bag abuts the edges of the railcar providing a tighter seal than mechanical shelters. These units come in three and four sided options, and are very efficient when it comes to managing airflow.
Metal Hoods: Many facilities are designed with architectural features that extend over a dock area to protect it from weather. For locations that aren't equipped with a built in canopy, manufactured hoods or canopies are available from most dock equipment manufacturers. Canopies provide additional protection for your dock shelters or seals, and can lengthen their life and protect your investment.
Should I Install Seals or Shelters On My Dock?
When you're considering whether to use shelters or seals, take a look at these factors:
Truck and trailer variability: are most vehicles going to be the same size and configuration? If so, seals are probably a better approach. If you've got a lot of variability in truck size, go with shelters.
Door sizes: how large are your dock doors? Seals are great for smaller openings and shelters are more appropriate for larger openings.
Trailer access: do you need full access to the rear of the trailer? Seals can restrict access in some cases.
Structure: can your dock door wall withstand the high compression forces of conventional (non-inflatable) seals or shelters?
Mounting surface: is the area suitable for a shelter frame the projects several inches, or do you need something that can be flush mounted?
Call Raymond West Today
If you need assistance with your dock shelter or seal configuration or need pricing, call a specialist at Raymond West! We have experts that can help you with any loading dock or warehouse equipment questions.