Is it time to replace your lift trucks?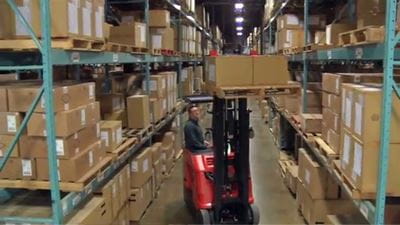 Here are 10 reasons why you should consider upgrading your forklifts.
1. YOUR FLEET INCLUDES IC FORKLIFTS.
When compared to internal combustion engines, businesses are discovering that using electricity to power their lift trucks has a number of advantages. Electric forklifts, which account for nearly 65 percent of the market and are growing in popularity, help to support sustainability efforts by reducing carbon emissions.
While electric forklifts are more expensive up front than propane lift trucks, they have a lower total cost of ownership over time because they save you money on fuel, maintenance, and repairs. Electric trucks require less maintenance and repair than propane forklifts because they have fewer moving parts, no spark plugs, and no oil changes or tune-ups. This saves money and keeps your fleet on the floor for better productivity.
Electric forklifts are also more pleasant to operate than propane-powered trucks because they provide a quieter ride, less heat, and zero emissions, resulting in a cleaner, healthier working environment.
2. YOUR LIFT TRUCKS ARE APPROACHING 10,000 HOURS.
One way to extend the life of your forklifts is to be proactive about maintenance. However, as your fleet ages, you will eventually experience downtime, no matter how diligent you are about service. When the trucks reach 10,000 hours, expect major repairs. Maintenance costs and downtime rise rapidly once you hit the 10,000 hour mark.
3. YOUR FORKLIFTS ARE MORE THAN 6 YEARS OLD.
The age of the forklift, like the number of hours of use, has an impact on maintenance costs. Major components like motors, drive units, and electronics will need to be replaced, resulting in increased downtime and maintenance costs.
According to a recent Peerless Research Group Modern Materials Handling study (see graph below), lift trucks are replaced every seven to eight years on average. Keep track of your forklift's hours, age, and maintenance costs to see if it's time to upgrade. When your truck reaches the age of seven years, it's time to think about replacement.
4. YOUR MAINTENANCE COSTS ARE HIGH.
When deciding whether or not to upgrade your forklift, age isn't the only factor to consider. As the truck gets older, maintenance costs, which include parts and labor, will rise. One suggestion is to seriously consider retiring a truck when the average monthly maintenance cost approaches or exceeds the monthly payment for a new lift truck, or when the monthly maintenance cost is greater than 10% of the new truck's price.
The chart below depicts the trigger points that operations should keep an eye on throughout the life of the lift truck. If a truck meets one of the trigger points, start watching it and keeping an eye on the other factors. You should conduct more analysis the more trigger points you hit.
5. THE EQUIPMENT ISN'T RIGHT FOR YOUR BUSINESS.
The requirements for a specific type of forklift in a given operation may have changed over time. If a piece of equipment is underutilized, it is most likely not meeting your current requirements. Consider the following to spot underutilization:
Examine both maintenance and utilization costs. On the X-axis, map your maintenance costs, and on the Y-axis, map your utilization. Then draw a line vertically down the center and horizontally across the center. Determine whether the trucks should be removed, replaced, retained, or relocated in each quadrant.
The trucks in the upper right quadrant need to be replaced. These have a high cost per hour and are heavily used. It is recommended that the trucks in the lower right quadrant be removed. They have a high per-hour cost and a low utilization rate. The trucks located in the upper left quadrant should be kept. They are in use and have a low cost per hour. The trucks in the lower left should either be traded in or moved to another part of the company. They have a low per-hour cost but are underutilized.
There are fleet management programs that can collect and report data to help you decide whether or not to upgrade your forklift.
It's also crucial to figure out if the fleet is the right size. Trucks with a lot of miles on them may indicate that you need to expand your fleet. You may have too many trucks if your hourly usage is low.
6. YOUR EQUIPMENT IS BEHIND THE TIMES.
Another factor to consider is that newer equipment offers improved performance, increased reliability, increased energy efficiency, and more options and features to meet the demands of today's demanding applications. To get the most out of technological advancements like telematics, it's critical to consult with a trusted advisor.
Up-to-date technology, such as fleet management software, can track usage, maintenance history, incidents, up-time, and productivity, collecting valuable data that can be used to optimize your fleet and save money.
Regularly consulting with solutions providers to determine the required upgrades to your forklift fleet will provide you with the benefits of current technology, such as advanced telematics systems and new energy storage technologies, which will better match today's need for increased productivity.
7. YOUR PRODUCTIVITY IS DECLINING.
If your lift trucks aren't meeting your productivity expectations, it's possible that you don't have the right fleet size or that you have an excessive amount of downtime. This could be due to the fact your trucks are getting older. After 10,000 hours, forklifts may develop major problems that require them to be taken out of service while repairs are made. When productivity suffers as a result of downtime, it's a sign that your lift trucks need to be upgraded.
Older batteries may also be contributing to dwindling productivity. It's also possible that batteries aren't properly matched to trucks, or that some batteries and chargers aren't compatible. Replacing the battery in an older, less efficient truck can often be a waste of money because there are better, more modern options currently available.
8. YOU'RE RUNNING OUT OF SPACE.
For the past few years, warehouse managers have expressed a strong desire for more space. Consider narrowing the aisles as a way to gain greater density in your warehouse. By switching from 12-foot aisles to 5-foot 6-inch aisles with Raymond Swing-Reach® trucks, you can save 32 percent of floor space, allowing you to store 46 percent more pallets in the same space as counterbalanced trucks.
9. YOU'VE GOT BATTERY PROBLEMS.
Battery problems are a sign that you should rethink your energy options. Energy storage technology has progressed to the point where lithium-ion, hydrogen fuel cells, and even technologically improved lead acid batteries are now more cost-effective options for operations.
Lead-acid batteries are a tried-and-true technology that offer versatility, durability, and effectiveness in a wide range of applications, all at a low cost of acquisition.
Lithium power is long-lasting and fast-charging, which eliminates the need to buy or store spare batteries, resulting in significant cost savings. This technology, which is both robust and efficient, can improve efficiency and productivity in demanding applications like cold storage. Lithium power has a higher power capacity and does not require traditional maintenance.
As an alternative energy source, hydrogen fuel cells are also available.
10. YOU ARE EXPERIENCING MORE DOWNTIME.
Operator downtime can have a negative impact on your company's productivity, resulting in high operational costs. In fact, the operator accounts for 74% of the cost of operating a lift truck because when the truck is down, the operator is not working. This means that by upgrading your fleet, your operators will be able to work more consistently, increasing the uptime of your operation.