Warehouse Door Repair | Long Beach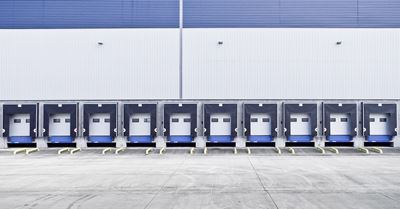 Raymond West offers commercial overhead door service throughout the Long Beach area.

Give us a call today at (562) 444-1222.
Warehouse doors are cycled thousands of times a year, and broken or out of service doors are fairly common on the majority of loading docks because they receive so much use. In some cases, doors are struck by lift trucks. The dock is a chaotic, congested location, and doors are regular casualties of lift trucks that must snake through obstacles and pedestrians in a confined area.
Malfunctioning or broken doors on your loading dock are not simply an inconvenience, they can also be very costly to your material handling operation. When you're unable to make use of a door, it can lead to backups and delays while a bay is out of service. At an active distribution center, every hour a door is out of service leads to reduced performance. Putting dock positions back online swiftly is important.
Poorly secured doors can also result in considerable energy loss, particularly in climate controlled and cold storage facilities. Each 8x10 dock door is a huge escape hatch for conditioned air, and an entry point for moisture, wind gusts and extreme conditions from the outside. When a door is damaged or tough to open and close, it has a tendency to stay open when the dock becomes active.
Unsealed doors can also allow rodents and various other vermin into your building, leading to product damages and remediation struggles. In addition, damaged doors can present a considerable safety danger, giving trespassers access to your warehouse after business hours.
Call a Qualified Warehouse Technician, Not a Garage Door Company
Raymond West has a workforce of over 400 technicians throughout 8 western states that serve the material handling sector exclusively. They are highly proficient in warehouse safety and have easy access to components for all kinds of warehouse doors, from cold storage to high speed curtains. They are experts in several categories of warehouse and dock products, and can work on interlock master controls, dock levelers, inflatable seals/shelters and vehicle restraints.
Emergency Overhead Door Service
If you require urgent service, we can dispatch technicians promptly, even after regular service hours. With 19 branches, we offer fast turnaround in Long Beach and throughout Los Angeles County. Our trucks stock common parts, so in many cases they can finish a job in a single service call.
Door Maintenance Programs
Because dock doors get a great deal of use, maintaining the rollers, cables, tracks, panels and seals in good working order is a must for active facilities. We offer routine door maintenance service and can supply scheduled maintenance programs for your various other dock and warehouse equipment so you never miss a day of productivity. Maintenance programs can quickly pay for themselves by lowering unexpected service calls and protecting against needless downtime.
Warehouse & Dock Door Repair Near Me
If you need immediate service in Long Beach or want to go over a planned maintenance program with a door specialist, phone Raymond West now.
Raymond West
Long Beach Service Area:
Long Beach, North Long Beach, Wilmington, San Pedro, Lomita, Torrance
Phone: (562) 444-1222
You May Also Like: