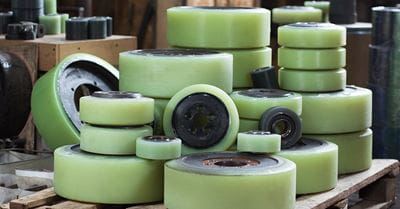 We supply tires for all forklifts, not just Raymond!

Raymond maintains one of the largest material handling parts divisions in the West.

Call now and let us help you find the parts you need:
(800) 675-2500
Lift trucks come in a broad selection of shapes and sizes, and each sort of forklift has a different set of tires. In general, tires are classified as cushion or pneumatic, although subcategories are present within those categories. Pneumatic tire and cushion tire forklifts have different types of frames, so they are not cross-compatible.
Although most forklift tires are tough and sturdy, they must be be changed out every now and then. Raymond West has tires for a variety of lift trucks at highly affordable prices.
Cushion Tires
At times called Press On Tires, this variety of tire is most often used inside, and occasionally outdoors on level surface materials. Press on tires have a smaller diameter compared to different varieties of forklift tires, and as such possess a smaller turning radius; making them better for smaller circumstances like warehouse aisles. Mounting a press on tire onto a lift truck wheel requires the use of a hydraulic press.
Within the cushion tire selection, there are two typical types:
Rubber Cushion Tires: Rubber cushion tires are used inside or on smooth surfaces outdoors like asphalt or concrete. They consist of solid rubber, attaching to fit around a steel band. These types of tires is available smooth or with a tread. Usually the forward forklift wheels will have treaded tires while the back tires that control steering will be smooth.
Polyurethane Cushion Tires: Solid polyurethane tires work with bigger loads than their rubber counterparts, and they are optimal for narrow aisles, order pickers and other warehouse jobs. Lightweight tires like these are more resistant to tearing, splitting, and chunking as opposed to rubber, and they can survive up to twice as long as rubber when carefully maintained.
Pneumatic Tires
Pneumatic and solid pneumatic tires often are used for outdoor applications, and are better suited for uneven or rough surface materials as opposed to press on tires. They have noteworthy traction and higher clearance with the ground which makes them optimal for rougher terrain.
Regular Pneumatic Tires: This sort of pneumatic tire is inflated with air, and is optimally used on the roughest surfaces where shock absorption is important, for both the lift truck's safety and the operator's comfort. The one downside of these tires is that they are more easily punctured, and sometimes they are filled with foam to reduce flats.
Solid Pneumatic Tires: Solid pneumatic tires are good for smooth surface indoor / outdoor heavy duty situations. Constructed with solid rubber and nearly puncture proof, they are the best option for environments with sharp objects, such as recycling yards or construction sites.
Non Marking Tires
Non-marking options are available for solid, solid pneumatic, and pneumatic tires. They are made with hydrated silicas and other additives to refrain from leaving floors covered in black marks.
These varieties of tires are commonly used in retail or other places where the aesthetic of floors are important. They are also used in a selection of industrial or food processing plants where cleanliness and dust reduction are factors.
There are some drawbacks to using non-marking tires. First and foremost, they often don't have the durability of traditional tires and will need replacement more often. One more issue is that they are more prone to static electricity buildup, and a forklift with them needs to be set up with static remediation options.
Forklift Tires Near Me
When maintained properly, your lift truck tires can decrease energy usage, greatly improve the comfort of operators, and boost your collective efficiency. To chat with a lift truck tire specialist, give Raymond West a call today!
Raymond West's Phoenix facility serves the entire Phoenix Metro area, including Phoenix, Tempe, Mesa, Gilbert, Chandler, Scottsdale, Glendale, Goodyear, Tolleson, Peoria and all surrounding areas.
Raymond West | Phoenix Forklift Dealer
2659 E Magnolia St
Phoenix, AZ 85034
(602) 275-2228