Horizontal Carousel Systems | Portland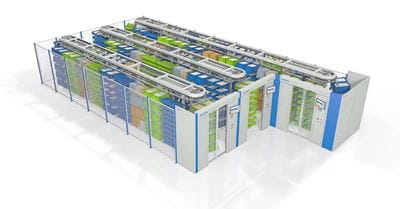 Raymond West supplies warehouse automation equipment such as horizontal carousels.

We are among the largest suppliers of warehouse automation equipment in the state.

Call us today at (800) 675-2500.
A horizontal carousel system is a type of automated storage and retrieval system (ASRS) used in warehouses and distribution centers to store and retrieve items effectively. It contains a sequence of bins or trays affixed to a turning carousel, and pick components are sent to the retrieval location, in a "good-to-person" fashion.
The Advantages Of Horizontal Carousels
One of the main benefits of a horizontal carousel system is its tendency to maximize storage space. Through using a turning platform, a horizontal carousel enables the storage of a large amount of items in a limited floor plan, enabling warehouses and distribution centers to use their space more effectively. This is most useful in cases where floor space is restricted or pricey.
Another plus of horizontal carousel systems is their speed and precision. Due to the fact that the picking instrument can speedily and easily find the desired bin or tray, the system can return items more quickly than a human picker. This is able to help warehouses and distribution centers cut back the time required to meet orders, which leads to increased performance and customer contentment.
Besides these positives, horizontal carousel systems are able, also, to help distribution centers and warehouses lighten their employment spending. Because the system is automatic, it can run 24/7 without requiring breaks or shifts. This reduces the demand to employ a workforce, which is often particularly useful for distribution centers and warehouses that have to output orders on a 24/7 basis.
Horizontal Carousel Types
There are varying differing kinds of horizontal carousel systems available, each including its own individual attributes and advantages. Some of the most frequently used sorts are:
Standard Horizontal Carousel: These "typical" horizontal conveyors are usually grouped together into a pod or workstation and used for batch picking applications. The number of carousels necessary per workstation varies depending on throughput expectations. Items can be retrieved by either a human employee or a robotic arm.
Put Horizontal Carousel: This style of carousel functions in the same vein as a put wall, but instead of a wall it's comprised of a carousel of bins or trays. It is frequently implemented for consolidation or within an operation.
Robotic Horizontal Carousel: Fully robotic carousels rotate the desired bin to an inserter/extractor, which picks the appropriate tray readily. A conveyor distributes the tray to its next location in the system.
When contemplating a horizontal carousel system for a distribution center or warehouse, it's important to systematically evaluate the individual demands of the facility. Factors to consider contain the layout and dimensions of the warehouse, the variety of wares being kept, and the volume of orders that need to be met.
In addition to the opening cost of the system, warehouse executives should also take into account continual maintenance and repair expenses. It's critical to choose a system that is reliable and durable, as downtime can be pricey when it comes to lost productivity and customer contentment.
Contact A Warehouse Automation Expert
Altogether, horizontal carousel systems can be a worthwhile purchase for material handling facilities trying to enhance efficiency and lessen costs. By automating the storage and retrieval of goods, such systems can help businesses enhance supply, reduce labor demands, and raise customer satisfaction.
Raymond's Portland service operation includes all of Western Oregon and Southwest Washington, including Portland, Beaverton, Tigard, Hillsboro, Forest Grove, Sherwood, Tualatin, Wilsonville, Oregon City, Gladstone, Clackamas, Milwaukie, Happy Valley, Gresham, Troutdale, Woodburn, Salem, Vancouver, Ridgefield, Longview, Kelso and surrounding areas.
Raymond West | Portland Material Handling Equipment Supplier
3148 NE 181st Ave
Portland, OR 97230
(800) 675-2500