Dock Bumpers | Reno / Sparks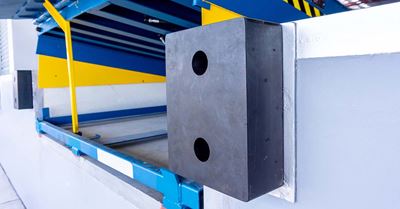 Raymond West supplies new and replacement dock bumpers.

We are among the largest suppliers of loading dock equipment in the state.

Call us today at (775) 356-8383
Loading dock bumpers can help you safeguard your building, your dock equipment and trailers. Every product that moves in and out of your warehouse or manufacturing facility crosses through the dock, so it's important to maintain it and keep every bay in good shape.
Types of Dock Bumpers
Dock bumpers are typically situated so that a truck or trailer "bumps" against them rather than against your building. This helps to protect your facility, your dock equipment and the trailer or truck that makes use of your dock.
There are numerous types of dock bumpers, and selecting the correct bumper can be consequential, depending upon the volume of your loading dock. Adding dock bumpers that are too light can result in an early demise, while installing dock bumpers that are thicker than necessary may be unproductive and could actually create problems when securing trailers and trucks.
Not all facilities are the same, and the style of dock bumpers you choose will be established by the approach, average trailer or vehicle height, daily volume and many other variables. For docks where trucks or trailers are expected to sway during loading or unloading operations, bumpers can be attached in either a vertical or horizontal orientation.
Molded Bumpers (Light Duty): Dock bumpers made from molded rubber can supply protection for light traffic loading docks. In addition, molded bumpers may be applied within a building to protect doorways, walls and other structural components from lift trucks and other equipment.
Molded rubber is the least durable option of various dock bumper styles, and is more prone to chipping or gouging. If your loading dock does not receive high volumes of traffic, they could be a viable choice for your business.
Laminated Bumpers (Medium Duty): Laminated bumpers have thicker pads than molded bumpers and offer superior shock absorption. They are fabricated from cut-to-size strips of recycled truck tires that are mounted between steel brackets.
These bumpers have a medium level of wear resistance and are versatile when it comes to height, length and overall thickness. They are frequently used on docks configured with pit-style dock levelers or edge-of-dock levelers, as they allow prolonged protection for high volume loading docks.
Steel Faced Bumpers (Heavy Duty): Steel faced bumpers are configured with a sliding section of steel that covers a standard laminate bumper, preventing heavy abrasion of the layered pads. The steel allows trailers to brush against the bumpers without breaking down the rubber. These bumpers provide outstanding durability, and typically are in service more than four times as long as unprotected laminate bumpers.
When Should Dock Bumpers Be Replaced?
Although dock bumpers are designed to hold up against repeated impact, they do deteriorate after steady use and need to be renewed periodically. There are some things to watch for that indicate that your dock bumpers should be replaced.
If you see wear of more than 50%, it's time for replacement. Worn pads do not provide enough impact absorption capacity to defend your dock. Excessively worn pads will ultimately expose the metal plates that hold them in place, and this can cause avoidable damage to both trailers and brackets.
Apart from normal wear, you should look for further damage like splitting laminate layers, cracking, warped or rusting metal and other evident defects. You may want to schedule bumper inspections, just as you would routinely inspect your levelers and other dock equipment.
Truck Dock Bumpers Near Me
For questions or a dock bumper price quote, contact a dock equipment expert at Raymond West today.
Raymond's Reno / Sparks service operation includes all of Western Nevada, including Reno, Sparks, Carson City, Minden, Gardnerville, Incline Village, Virginia City, Indian Hills, Johnson Lane, Fernley, Fallon, Dayton, Silver Springs, Spanish Springs, Yerington, Genoa and Zephyr Cove.
Raymond West | Reno / Sparks Material Handling Equipment Supplier
975 Terminal Way
Reno, NV 89502
(775) 356-8383