Pallet Rack Installation | Reno / Sparks, NV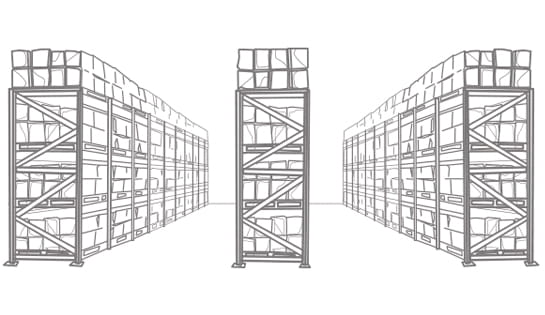 Raymond West is a Reno / Sparks supplier of new and used pallet racking.

We offer installation, tear down and relocation services.

Call us today at (775) 356-8383
Pallet Rack Installation
Pallet racking takes full advantage of precious warehouse space, and a well structured racking configuration is critical to warehouse profitability. Racking systems must be engineered and built out by qualified professionals who are knowledgeable about seismic design, fire suppression, local codes and ordinances, permit processes, and warehouse safety.
Raymond West specializes in material handling solutions and warehouse storage systems, and pallet rack installation is just one of the services we provide to help you take full advantage of your racking systems investment. Our warehouse rack installation service eliminates the stress of racking installation and ensures that your system is installed correctly and efficiently.
Pallet Rack Tear Down & Moving
The proper teardown of equipment is equally as important as the correct installation. Our customers frequently say that they plan to disassemble their storage systems using their own labor, and although this may look like a sound idea in the beginning, it is in many cases a mistake. When it comes time to reassemble or sell the material, you may discover that if inexperienced laborers removed it, finding the appropriate parts or reassembling damaged material can be extremely challenging.
If a storage system has to be relocated and reassembled, our expert team will properly label it. They'll then pack and store it correctly to avoid damage. Our team can load it onto trailers for safe transport whether you're relocating to a new facility across town or across the country. We know how to relocate your equipment in a secure manner, preventing damage and enabling straightforward reassembly.
Our technicians will show up with everything they need, finish the job quickly and efficiently, and clean up when they're done. Raymond West's knowledge and integrated services method provide a turnkey disassembly and transport service so that you can focus on running your operation.
Pallet Rack Inspection
Pallet racking systems are precisely engineered structures that are built to withstand enormous weight. The integrity of those systems can be undermined by ongoing abuse, neglect, additions, or improper modifications. That's why it's critical to have your racking system inspected routinely. Inspections can help prevent rack failure, property damage, and even potential worker injury or death.
Raymond West has a dedicated rack safety and repair team. Our knowledge of rack safety best practices and RMI/ANSI rack safety standards makes it possible for us to analyze a storage system, identify probably risks, and make recommendations to help you strengthen worker safety and asset protection.
Pallet Rack Repair
Although it's often advisable to replace faulty racks, many times they can be repaired in place. Simple fixes can often be accomplished swiftly with very little disruption to your day-to-day operations. For common repairs, the base portion of rack is taken out and replaced with a more robust upright.
Pallet Rack Companies Near Me
Although you may have countless options for pallet racking vendors in Nevada, Raymond West is among the largest and most sophisticated material handling suppliers in the Western United States. If you need pallet rack installation, tear down, relocation, inspection or repair, give us a call today! Raymond's Reno / Sparks service operation includes all of Western Nevada, including Reno, Sparks, Carson City, Minden, Gardnerville, Incline Village, Virginia City, Indian Hills, Johnson Lane, Fernley, Fallon, Dayton, Silver Springs, Spanish Springs, Yerington, Genoa and Zephyr Cove.
Raymond West | Reno / Sparks Material Handling Equipment Supplier
1315 Greg Street, Suite 112
Sparks, NV 89431-6091
(775) 356-8383
You May Also Like: