Dock Locks | Santa Clarita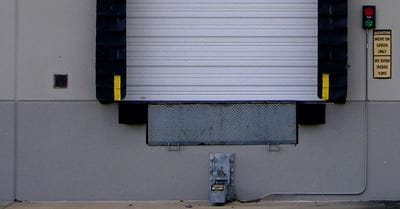 Raymond West supplies dock trailer restraints and interlock systems.

We are among the largest suppliers of loading dock equipment in the state.

Call us today at (800) 675-2500.
Loading docks are high traffic areas, and maintaining a good safety plan can benefit your business by preventing costly and disruptive accidents.
Truck Restraints
As trailers are maneuvered into a dock bay, making sure the trailer stays in place is critical to the safety of your labor force. As lift trucks move in and out of trailers and pallets are added or removed, significant weight shifts ensue. As trailers are bumped they tend to shift unless they are securely tethered in place by some form of restraint system.
When a trailer is accidentally moved, it is referred to as "trailer creep." This is exceedingly hazardous for a lift truck operator, as the dock leveler is separated from the trailer. A lift truck can undeniably plummet from the side of the loading dock, resulting in severe injury or death.
A further problem is unplanned drive offs. Sometimes drivers will depart from the loading dock before loading or unloading is finished due to oversight or miscommunication. If a lift truck is on board during an unscheduled departure it can be disastrous.
Truck restraints are made to impede trucks from pulling away from a loading dock until it is safe to do so. Restraints can be as basic as wheel chocks, or they can be as advanced as hydraulic hooks that integrate with dock levelers and doors through interlock safety systems.
Trailer Restraints (Dock Locks)
Trailer restraint mechanisms are in essence hooks that grab the ICC bar on a trailer frame to hold it firmly in place. These devices can be basic, manually operated systems or more advanced hydraulic and/or electric configurations.
Many times, truck restraints are directly tied to the door and leveler equipment on a loading dock bay, so that they can't be disengaged if the door is open, the dock leveler is extended or the truck driver hasn't been instructed to proceed by the dock operator. Having safeguards like these can be advantageous on any busy loading dock and can greatly improve safety and productivity.
Wheel Chocks
Wheel chocks are the simplest way to keep a trailer in place. So why use a restraint system instead of wheel chocks? While basic wheel chocks can work well, there are many risks:
Forgetful workers may sometimes fail to put chocks in place
A sloped or uneven approach can cause chocks to slip or not function properly
Chocks can get lost, and busy workers may forego them rather than fall behind
Placing wheel chocks may require workers to get low to the ground where truck drivers can't see them, putting the employee in harm's way if the truck moves
Dock Restraints Near Me
To find out more about vehicle restraints or other loading dock safety equipment, get in touch with a dock and door professional at Raymond West today.
Raymond West's Santa Clarita / Valencia facility serves the northern region of Los Angeles County and the San Fernando Valley, including Valencia, Santa Clarita, San Fernando, Sylmar, Sun Valley, Reseda, Canoga Park, Van Nuys, North Hollywood, Burbank, Glendale, Pasadena, Hollywood and all surrounding areas.
Raymond West | Santa Clarita / San Fernando Valley Material Handling Equipment Supplier
28303 Industry Dr
Valencia, CA 91355
(661) 206-0462