Dock Boards / Dock Plates | Reno / Sparks, NV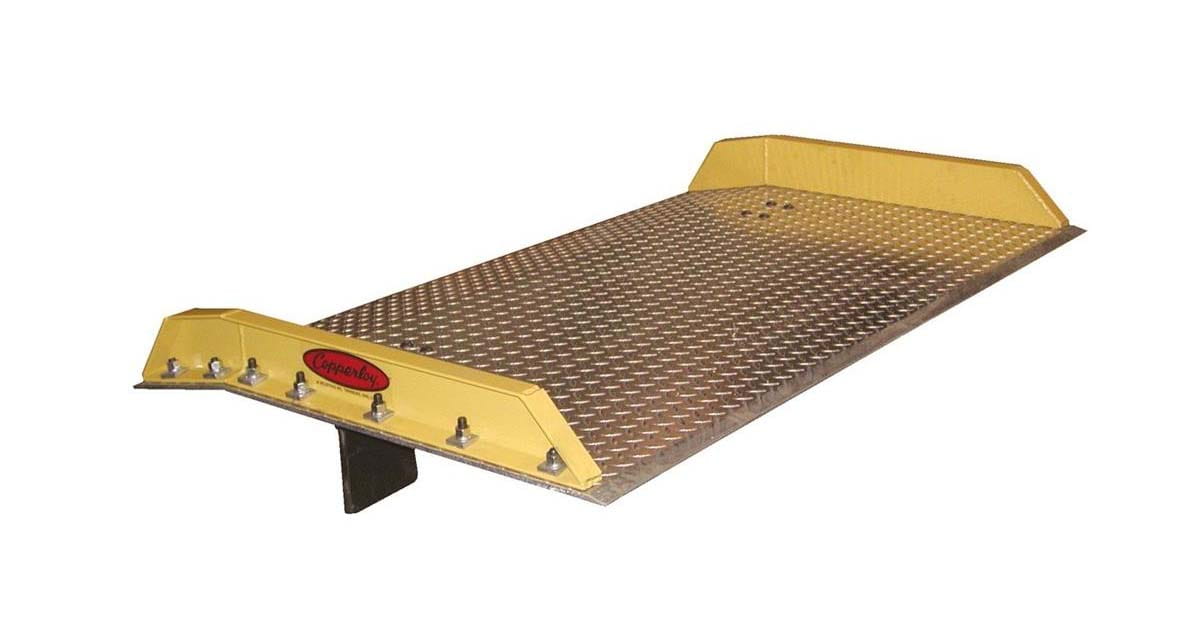 Raymond West offers dock plates, dock boards and yard ramps in Western Nevada.

Give us a call today at 775-356-8383.
When you are unloading and loading trucks, keeping a safe path for your pallet trucks, lift trucks or other equipment is an important concern. Any equipment that spans the opening between a loading dock and a truck or the floor must be rugged enough to bear tremendous weight.
There are many choices out there from many different suppliers in . While dock levelers are a popular choice, portable dock plates, boards and ramps are more affordable and frequently more adaptable possibilities. Unlike levelers, these choices can be readily moved and re-used across different loading dock stations.
Dock Plate
Dock plates are employed to span a gap from one area to another in material handling applications, usually between a dock and a truck. They are constructed as a rectangular slab of metal with a small curve, and they often have a vertical safety leg fitted on the lower face that maintains the plate in position while in use. Dock plates come in either aluminum or steel and can uphold weights of up to 17,000 lbs. They are typically fabricated with a diamond plate facing for traction.
Dock Board
Dock boards offer a heavier duty selection for bridging gaps and have borders fitted on both sides, which add bracing to the board and impede lift trucks from slipping over the edges. Dock boards come in both steel and lighter weight aluminum varieties. Curbs are either bolted or welded on the sides. Like dock plates, dock boards frequently come equipped with a security foot and are usually made with a diamond plate pattern.
Yard Ramps
A yard ramp is basically a moveable loading dock. It is a ramp that can be readily moved around a shipping and receiving area to permit pallet jacks and forklifts to move safely from ground level up to a container or trailer and back. Most yard ramps have a height adjustment mechanism to allow various sizes of containers and trucks.
For facilities that don't have loading docks, yard ramps are vital for loading and unloading merchandise from trailers and containers. A secondary application is to permit vehicles to drive into a warehouse from ground level through a bay door.
Loading Dock Ramps
A dock to ground ramp is beneficial when you have occasion to drive small trucks, vans or lift trucks in and out of your warehouse on a consistent basis. It's a permanent or semi-permanent ramp that enables vehicle travel from ground level to dock elevation.
In contrast to yard ramps, dock to ground ramps are not engineered to be relocated often, and are intended as a long term solution. There is also no need for an incline adjustment mechanism, as the ramp remains set in a single position.
Dock Plates, Dock Boards and Dock Ramps in Washoe County
If you are looking to buy or service loading dock equipment in Western Nevada, speak to a warehouse expert at Raymond West today by calling
775-356-8383
. Raymond's Reno / Sparks service operation includes all of Western Nevada, including Reno, Sparks, Carson City, Minden, Gardnerville, Incline Village, Virginia City, Indian Hills, Johnson Lane, Fernley, Fallon, Dayton, Silver Springs, Spanish Springs, Yerington, Genoa and Zephyr Cove.
Raymond West | Reno / Sparks Material Handling Equipment Supplier
1315 Greg Street, Suite 112
Sparks, NV 89431-6091
(775) 356-8383
You May Also Like: