Aerial Lifts | Reno / Sparks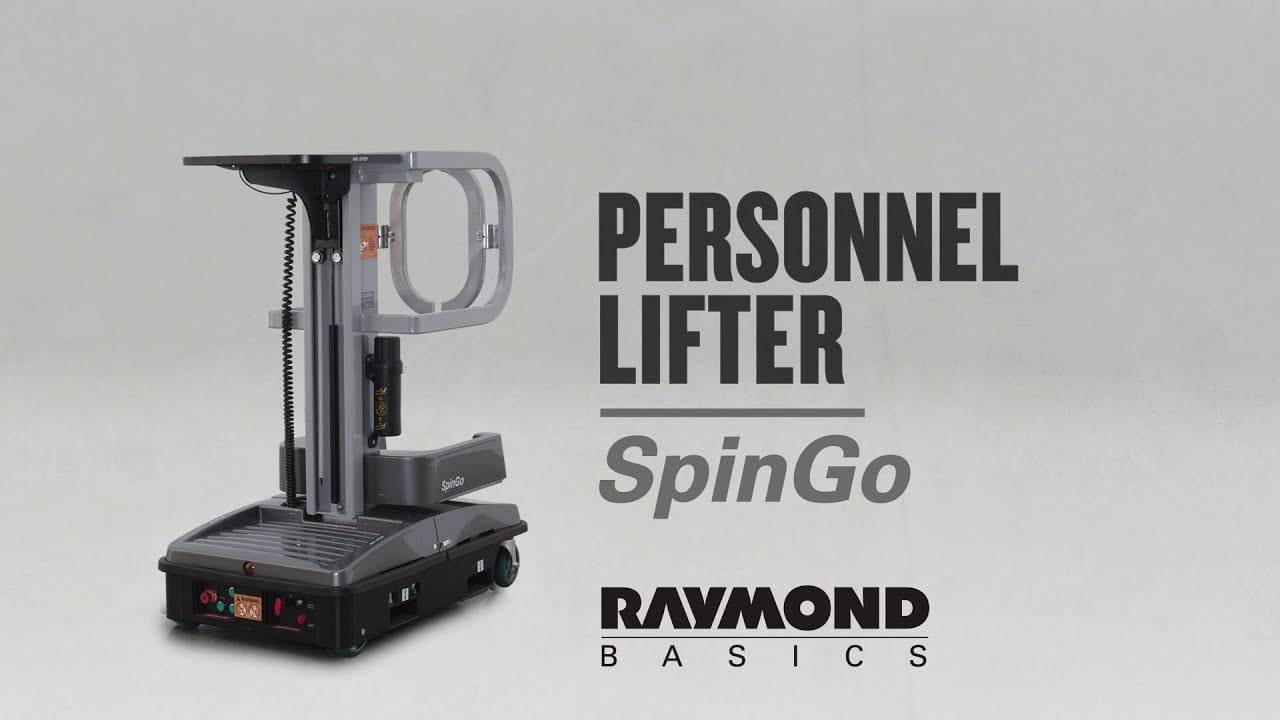 Raymond West offers a full line of aerial lifts for industrial applications.

To rent, lease or buy a lift, give us a call today at 775-356-8383.
If you are looking to rent, lease or buy an aerial lift, Raymond West has a wide selection of options for you. When narrowing your choices for an aerial lift, you must consider job requirements, lift capacity, worker safety, OSHA fall protection rules, operator comfort and user friendliness.
Raymond West offers a full selection of conventional man-lift types from scissor lifts to boom lifts, as well as our electric warehouse personnel lift options: the Raymond Sprint and the Raymond SpinGo.
Raymond SpinGo Elevated Platform
When you have routine jobs like order picking, stock replenishment, or facility maintenance that are out of reach, Raymond's SpinGo push-around vertical platform is the perfect alternative to podiums and ladders.
The SpinGo is compact, lightweight, manual push aerial lift that provides operators with precise maneuvering. The electric lift function offers pushbutton ease-of-use and keeps your team happy and productive. This work platform is the perfect size to fit into just about any area where you would commonly place a ladder, but offers superior operator comfort and safety.
With a total weight of 728 lbs, the SpinGo can support an occupant weight of up to 286 lbs and may be extended to a working height of 13.5'. Its load deck and cargo shelf areas permit payloads of up to 198 lbs.
Raymond Sprint Elevated Work Platform
Raymond's Sprint aerial lift is the weightier rival to the SpinGo and it is self-propelled as opposed to being pushed. Its maintenance-free hydraulic mast features no wear-prone chains or components, requires no lubrication and raises to a maximum height of 17.5 feet.
The Sprint can support an occupant weight of up to 286 lbs, while allowing up to 249 lbs platform capacity and 198 lbs tray capacity. Its 24 volt battery enables the Sprint to operate for nearly 9 hours on one charge.
Scissor Lift Rental
In the course of temporary business fluctuations or high demand periods, many businesses require extra lifts for orderpicking and stock replenishment. Raymond West offers a number of aerial lift rental and lease options suitable for almost any material handling need.
Used Aerial Lifts
In accordance with our Raymond ReNewed offer, we refurbish gently used lease return equipment to our exacting standards, enabling you to purchase or rent pre-owned equipment at a fraction of the cost of new.
When it comes to service, our service department offers aerial lift repair and maintenance for all equipment manufacturers, handled by certified technicians. In addition, our parts department has a full range of aerial lift parts in stock.
Aerial Lift Near Me
If you're researching any type of aerial lift, whether it's a scissor lift, boom lift or any other class of personnel lift, you can speak with a professional at Raymond West by calling 775-356-8383. Raymond's Reno / Sparks service operation includes all of Western Nevada, including Reno, Sparks, Carson City, Minden, Gardnerville, Incline Village, Virginia City, Indian Hills, Johnson Lane, Fernley, Fallon, Dayton, Silver Springs, Spanish Springs, Yerington, Genoa and Zephyr Cove.
Raymond West | Reno / Sparks Material Handling Equipment Supplier
1315 Greg Street, Suite 112
Sparks, NV 89431-6091
(775) 356-8383
You May Also Like: