Dock Levelers | Reno / Sparks, NV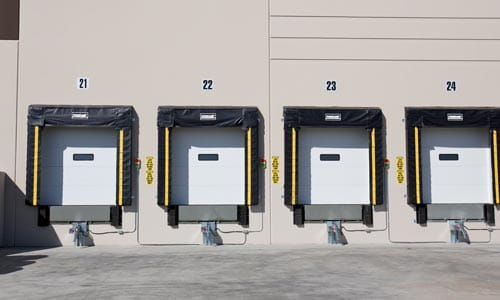 Raymond West is a Reno / Sparks supplier of loading dock equipment.

We are backed by one of the largest service and parts operations in Nevada.

Call us today at 775-356-8383
Dock Levelers
If you're looking for loading dock equipment, Raymond West supplies a complete array of services, products and accessories to keep your warehouse performing at the highest level.
We supply a complete array of hydraulic dock levelers from the very best manufacturers. Improve your loading dock equipment by deploying the latest in safety and industrial design standards. Our company provides an assortment of dock leveler options, including:
Hydraulic
Made for high capacity conditions, hydraulic levelers are durable, long lasting units that can stand up to many years of constant lift truck and pallet truck use. These types of units are a safe, efficient, high speed choice for commercial dock levelers.
Hydraulic options are standard equipment in around the clock customer facilities that turn many trucks per loading dock each day. Although they're more expensive than other leveler options up front, repair and maintenance work expenditures will typically be significantly less than other options over the life of the equipment.
Mechanical
Mechanical dock leveler systems are hand operated, and as a result they don't afford the equivalent efficiency and safety protection of a hydraulic system. These products rely on a spring mechanism instead of hydraulic systems. They're not difficult to operate and fairly sturdy, although they do need a fair amount of regular maintenance.
Air Powered
Air controlled dock levelers offer customers a "middle of the road" option, more reliable than mechanical products and less expensive than hydraulic mechanisms. They utilize an inflatable air sack that lifts and lowers the deck plate. The sack is inflated or deflated at the flip of a switch.
These solutions are not as fast as hydraulic choices, but are perfect for inhospitable conditions like frigid temperatures and caustic chemicals. While maintenance is not expensive, air bag replacement can incur substantial cost.
Edge of Dock
Edge of dock levelers are self-contained units fastened to the top of the vertical dock face on the outside of the door. Though they allow less of a working range than pit levelers, they do allow less complicated installation and less expense. They are a suitable and safe choice if there is little variability in vehicle/trailer dimensions.
Dock Leveler Installation
Replacement: if you need to modernize your dock levelers, Raymond has a full catalog of modular equipment options and parts, along with pit-kits available for whatever variety of levelers you choose. We also offer full service on site removal and replacement of your old dock levelers.

New Construction: for new building plans, we can help with loading dock design and product selection for your new location. In addition, we can manage pit construction and equipment installation at your site. Also inquire about doors, storage systems, conveyors and accessories!
Dock Equipment Service
Scheduled maintenance is crucial for the safety and efficient operation of your loading dock. Raymond has a team of highly trained technicians ready to help with any support tasks that emerge.
We also offer emergency repair service and on-call support if you have a critical leveler or industrial door issue.
Your Dock Equipment Vendor in Western Nevada
To get more information about selecting, installing, servicing or repairing a dock leveler, please contact an expert at Raymond West and request a quote today. Raymond has been providing services and products to the warehouse and material handling equipment industry for almost one hundred years and are among the best in the business.
Raymond offers the best products, top notch customer service and incomparable support. Finance, lease and rental terms are at your disposal, giving you a number of choices.
We also provide high speed doors, dock seals, shelters, high velocity industrial fans, lights, vehicle restraints, mobile ramps, bumpers, portable dock boards, wheel chocks, wheel risers and any other dock equipment you may require.
Alongside loading dock equipment, we also provide a variety of warehouse systems from storage solutions, conveyors, pallet and industrial shelving, pallet jacks, lift trucks, scissor lifts, and other material handling equipment.
Call or contact your nearby Raymond sales center online to request a quote today! A customer service professional will help you with any material handling system or service you require.
Raymond West | Reno / Sparks Material Handling Equipment Supplier
1315 Greg Street, Suite 112
Sparks, NV 89431-6091
(775) 356-8383
You May Also Like: