Pallet Shuttles | Reno / Sparks, NV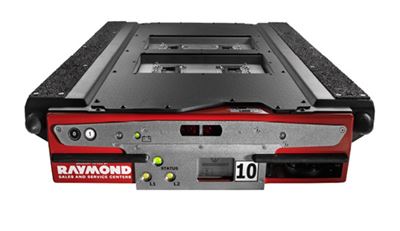 Raymond West supplies a full range of warehouse automation equipment, including pallet shuttle systems.

If you'd like to find out more about automation possibilities for your Washoe County warehouse, give us a call at 775-356-8383
A pallet shuttle is an automated, independent, high density pallet storage solution that uses self-powered shuttle carriages to transport pallets backward or forward in a racking lane. Shuttles are motor driven and travel along rails inside a storage lane.
During loading, a forklift places pallets in the front position in a channel and the shuttle moves the load back to the furthest unused position in the rack until the lane is filled completely. When pulling pallets, unit loads are picked up from their position and moved to the rack face to be handled by a forklift.
Pallet shuttle solutions are ideal for high volume facilities and make it possible for operators to seamlessly store and collect pallets using a vehicle mounted remote control or systematically through a warehouse management system.
Maximize Warehouse Storage Density
These types of deep lane AS/RS solutions benefit warehouse operators greatly by improving storage capacity within a facility. Fewer forklift lanes are necessary, meaning that most of that corridor space can be converted to storage. Onboard sensors permit shuttles to place pallets in very close proximity, making the most of storage space inside each channel. Shuttles also allow more vertical storage by requiring minimal clearance between levels.
Improve Warehouse Efficiency and Safety
The benefits don't stop at storage density. Efficiency goes off the charts because lift trucks are no longer required to drive to individual aisles--each pallet is loaded or retrieved from a single rack face. This substantially shortens ordinary loading and unloading times. Consequently, it can reduce the number of forklifts required, and reduce labor costs with fewer operators.
By diminishing lift truck travel, you also reduce your risk of accidents. Less forklift travel results in fewer damaged lift trucks and racks, less product damage and not as many safety incidents or injuries.
Raymond Radioshuttle
Raymond's Radioshuttle solution is among the most innovative pallet shuttle options in the industry. As the inventor of pallet shuttle systems close to 30 years ago, Radioshuttle offers industry leading shuttle speeds and a battery recharge interval of 8-14 hours, depending on system design. Radioshuttle automation systems are also incredibly reliable and durable—some units installed nearly 30 years ago are still in operation today!
Radioshuttle units accommodate loads of up to 3,900 pounds. And for extreme conditions or cold storage applications, Radioshuttle is the ideal choice. The equipment functions dependably in temperatures from -22 to +104 degrees Fahrenheit.
Pallet Shuttle Systems in Western Nevada
To learn more about pallet shuttles or other automated storage and retrieval solutions, give Raymond West a call today at 775-356-8383.
Raymond's Reno / Sparks service operation includes all of Western Nevada, including Reno, Sparks, Carson City, Minden, Gardnerville, Incline Village, Virginia City, Indian Hills, Johnson Lane, Fernley, Fallon, Dayton, Silver Springs, Spanish Springs, Yerington, Genoa and Zephyr Cove.
Raymond West | Reno / Sparks Material Handling Equipment Supplier
975 Terminal Way
Reno, NV 89502
(775) 356-8383
You May Also Like: